Photo: PC 11
Sennheiser Communications introduces two new headsets that make phone conversations over the net more enjoyable than ever: the PC 11 and PC 100. Both combine excellent Sennheiser sound quality with superior comfort to enhance any internet telephony experience — at home or on the go.
Ultra-light and comfortable on either ear, the discreet PC 11 is the ideal single-sided headset for making calls over the net wherever you take your laptop. Because you only need one hand to operate the PC 11, you can adjust it quickly and easily, while the compact size means it fits perfectly in a handbag or pocket when not in use.
The PC 100 is the ideal 3-in-1 Headset 2 Go. It combines an ultra-light in-ear design with excellent sound quality — so you can enjoy internet telephony, entertainment and gaming all day long. Whether connected to an MP3 player, laptop or desktop PC, this headset is compatible with them all.
Excellent Sennheiser sound
Thanks to premium Sennheiser hi-fi technology, the PC 11 and PC 100 deliver sound quality you would normally only expect from a much larger headset. The PC 11 features a high-performance, omni-directional microphone that picks up every nuance of your voice — so you will certainly never have to shout to be heard when out and about in the city.
The in-line microphone on the PC 100 ensures every word is easily understood when you make calls over the net — while in-ear stereo buds deliver uninterrupted clarity with any conversation or MP3. With its superb sound performance, the PC 100 headset is also ideal for a spontaneous gaming session at the end of the day.
Highly comfortable
Both the PC 11 and PC 100 are comfortable enough for long hours of use. The PC 11's flexible on-ear design especially meets all the demands of a busy lifestyle on the go. It comes supplied with two robust ear-hooks that give you the chance to wear the headset on your right or left ear — whichever suits you best. While the PC 100's soft foam ear cushions ensure you can listen to music, chat or game for hours in total comfort. The compact, in-ear design is also perfect for travelers who prefer discreet internet telephony.
Plug & Play
Just take the PC 11 or PC 100 out of the package and plug into your laptop or desktop PC to start making calls over the net with excellent sound clarity. For an easy connection to any computer, both headsets come with two 3.5mm plugs — one for the headphone and the other for the microphone jacks.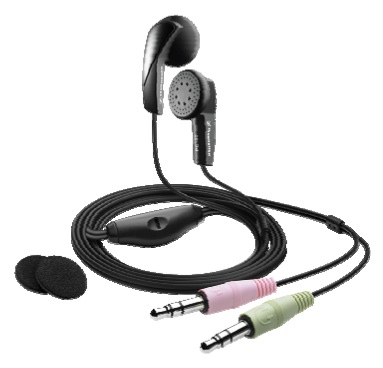 Photo: PC 100
All-round entertainment
The PC 100 is an all-in-one entertainment companion — delivering superb sound from your desktop, laptop, iPod or any MP3 player. You can listen to your favorite songs and enjoy casual gaming sessions or other entertainment on the go, without compromising on excellent sound quality.
The PC 100 is scheduled for release in October 2009, while the PC 11 will be launched on the market in November 2009.
The PC 11 at a glance
Speech clarity — adjustable, omni-directional microphone delivers clear conversations, comfort and flexibility
Light and comfortable — on-ear headset that is so light, you'll almost forget you are wearing it
Flexible wearing — two ear-hooks give you the choice of wearing on either ear
Easy to use — just insert the 3.5mm plugs into the microphone and headphone jacks on your desktop or laptop and you are ready for internet telephony
Internet telephony on any computer — for desktop PCs and laptops, on the road or at home
Peace of mind — thanks to the 2-year international warranty
The PC 100 at a glance
Speech clarity — high-quality in-line microphone ensures every word is easily understood
The perfect fit — ultra-light, ergonomic in-ear design stays comfortable all day long
Plug & Play — easy to use and ready to go right out of the box
Internet telephony on any computer — for desktop PCs or laptops, on the road or at home
Superb sound for all-round entertainment — Sennheiser delivers excellent sound quality for music, telephony and gaming all from one headset
Peace of mind — thanks to the 2-year international warranty