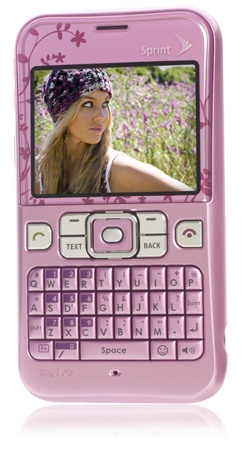 The Sanyo SCP-2700 QWERTY Phone from Sprint Makes Mobile Messaging Easy and Affordable
The Sanyo SCP-2700 mobile phone is a slim and affordable messaging device that features a full QWERTY keyboard, threaded text messaging, access to the Web, email and a 1.3 megapixel camera. The device is available exclusively from Sprint at stores throughout West Michigan and Northeast Indiana.
Offering a large 2.2″ color LCD screen, the compact phone is thin and stylish, with a built-in speakerphone. It is available in Impulsive Pink and Deep Blue designs. Its text messaging capabilities include threaded text messaging and a dedicated emoticon key for inserting smiley faces and other symbols.
"This phone makes it simple for families to stay connected through voice, text and email," says William Derrick, General Manager at iPCS Wireless, the Sprint PCS affiliate in Michigan and Indiana. "Its compact design, full features and great looks will appeal to teens and sophisticated users alike. Best of all, at its low price point and inexpensive rate plans, we've eliminated any barriers for people seeking a simple messaging device."
Sprint offers an affordable Everything Messaging Plan that lets customers take advantage of the phone's messaging features at a great value. This plan includes 450 anytime minutes (add'l minutes $0.45/min.), unlimited night and weekend minutes starting a 7 p.m., unlimited mobile-to-mobile minutes, plus unlimited text, picture and video messaging — all for just $49.99 per month (excluding taxes and surcharges). This plan provides savings of more than $115 per year vs. comparable AT&T and Verizon plans.*
* Savings based on 450-minute options for Verizon Select and AT&T Talk and Text plans, based on published rate plans available on publication date.
Reviews Around the Web:

sanyo scp-2700