Ideal for Large Venues and Digital Signage With High Brightness and High Performance
The PLC-XM150/150L is the highest brightness projector in its class at 6000 lumens, while the PLC-XM100/100L is rated at an equally remarkable 5000 lumens
Both models incorporate SANYO's exclusive AMF, Active Maintenance Filter system, which dramatically lowers maintenance and related costs
A new optical engine with inorganic liquid crystal panel ensures high reliability
Power Vertical/Horizontal Lens Shifting Function and Power Zoom/Focus Function make installation and operation simple in any environment
SANYO North America Corporation introduces the PLC-XM150/150L and PLC-XM100/100L projectors, with 6000 and 5000 lumens respectively, along with SANYO's proprietary Active Maintenance Filter (AMF) system, and a new optical engine that ensures high reliability.
Marking SANYO's 20th anniversary developing leading edge projectors, "These two new projectors represent the type of out-of-the-box functions and high-brightness/high-image-quality technologies that have made SANYO a world leader in the industry," states Mark Holt, Vice President and General Manager for SANYO's Presentation Technologies Division.
Labeled the highest brightness projector in its class, the PLC-XM150/150L is rated at 6000 lumens, more than enough light output to fill a large conference hall or auditorium. While still considered a high brightness product, the PLC-XM100/100L offers a version rated at 5000 lumens. An inorganic liquid crystal panel was incorporated into the newly developed optical engine and combined with a superior cooling technology, allowing both projectors to boast such high brightness levels. The light efficiency is approximately 20% higher compared to SANYO's conventional models, enabling big screen projection in large venues and well-lit areas, which also lends itself to handle digital signage.

In an effort to further provide high reliability and easy maintenance, both models are equipped with SANYO's exclusive Active Maintenance Filter (AMF) system. A single cartridge contains 10 filter rolls and lasts approximately 10,000 hours. When the system detects air blocks or clogs, the filter reel scrolls to the next clean filter.
There are five lens options available for the PLC-XM150/150L and PLC-XM100/100L, enabling the best lens selection for the installation site. This allows these projectors to be used in a wide variety of venue settings, such as medium to large conference rooms, classrooms, school auditoriums and lecture halls.
Installation and operation is quick and fast due to the advanced Power Vertical/Horizontal Lens Shifting and Power Zoom/Focus functions. Both enable projection adjustments without changing the projectors position. These power-driven systems are conveniently operated and fine-tuned via the supplied remote control. This is advantageous when the projector is placed in a less than optimal area, such as on the wall or ceiling. The Vertical 360-degree Tilt Angle feature allows projection on the ceiling, floor, or any surface desired. Easy operation is also facilitated by the Auto-Input Signal Search function, which automatically detects the signal input.
Both models are compatible with SANYO's optional PJ-NET Organizer that enables sophisticated and centralized control of the projector over a network, achieved by using the projector's wired LAN terminal (RJ-45). Other functions ideal for professional use are incorporated, such as Corner Keystone Correction, which straightens the image when projecting from an angle, and Mechanical Shutter which temporarily blocks the lamp output. The Direct Power-off function allows the projector to shut down without the need to cool down. Just remove the plug and go.
These units also conform to the EU RoHS Directive and the packaging contains pulp molds, which can be recycled as used paper.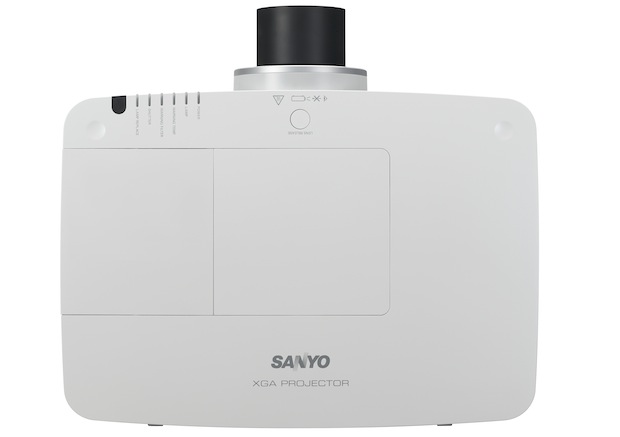 Specifications
Resolution: 1024 x 768 (WUXGA dot resizing possible)
Aspect Ratio: 4:3
Contrast Ratio: 1,000:1
Brightness: 6000 ANSI lumens (PLC-XM150/150L), 5000 ANSI lumens
(PLC-XM100/100L)
Screen Size: 40″ to 400″
Video Inputs: DVI-D (HDCP compatible), Analog RGB x 2, D-sub 15pin, BNC
5-type x 1, BNC 3 type (Y-Pb/Cb-Pr/Cr), RCA (Pb/Cb -Pr/Cr), S-Video
Video Outputs: Analog RGB, D-sub 15pin
Control Ports: D-Sub 9, USB (type B), mini jack 3.5mm (wired remote
control connection), RJ-45 (wired LAN)
Dimensions: 19.27 (W) x 6.45 (H) x 17.12 (D) inches (with lens), without
lens depth is reduced to 14.61 inches
Weight: 21 lbs. with lens attached, 19.5 lbs without lens
The PLC-XM150/150L will be available in mid-November, while the PLC-XM100/100L will be available in mid-December. Both models are sold with or without a lens for the following MSRPs: