Samsung announced the Series 7 All-In-One PC with a thin 23-inch touch screen display, Intel Core i3 or i5 processors and Windows 7 Home Premium. The monitor can fold into a full flat design enabling users to lay the PC all the way down, creating a full horizontal touch interface, perfect for gaming, using art and design programs or inviting a large group to gather around the screen to view content.
The Series 7 All-In-One features Samsung's advanced TV technology, which makes video come alive on the product's Full HD, LED-backlit display. Adding to the home theater experience is the inclusion of Harman Speakers and Harman-optimized audio features, which result in a top-of-the-line sound experience, perfect for listening to both music and videos. The Series 7 All-In-One also features surround sound, powered by the SoundAlive sound enhancer, for the ultimate audio experience. An integrated HD webcam and DVD player complete the multimedia package, along with a wireless keyboard and mouse.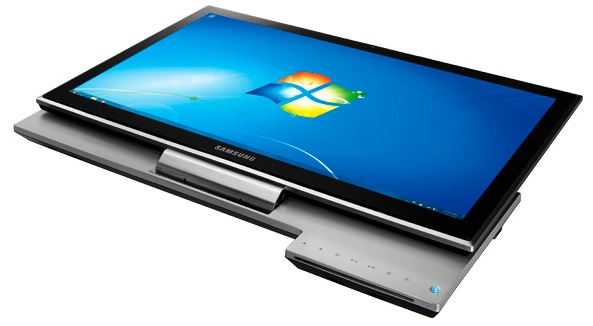 Samsung's advanced touch screen technology provides a more accurate and responsive experience, enabling you to quickly navigate through the simple user interface, the web and more. Additionally, the innovative Samsung Touch Launcher software allows you to make the most of the All-In-One's touch screen by providing touch-based access to your favorite applications from the desktop.
Samsung's exclusive Easy Settings make it effortless to connect the Series 7 All-In-One to new wireless networks, projectors and more by giving you easy access to commonly used PC settings. Samsung Easy Migration allows users to seamlessly transfer existing files to the new computer by connecting it to their old PC, launching and starting Easy Migration and letting the PC do the rest.
Price and Availability
The Samsung Series 7 All-In-One PC is scheduled to be available starting October 10, 2011 from $999 – $1,199, depending on the model.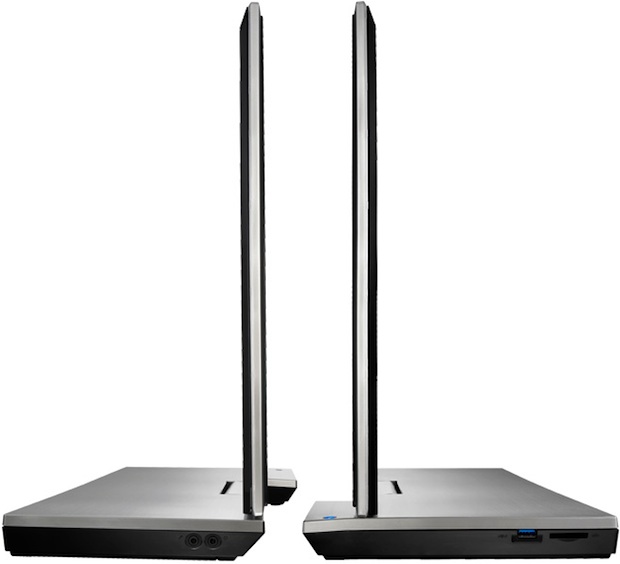 Specifications:
| | | | | | | | | |
| --- | --- | --- | --- | --- | --- | --- | --- | --- |
| Model | | | | DP700A3B-A01US | | | | DP700A3B-A02US |
| CPU | | | | Intel Core i3-2120T | | | | Intel Core i5-2390T with 3.50GHz Turbo Boost |
| Operating System | | | | Genuine Windows 7 Home Premium (64-bit) | | | | Genuine Windows 7 Home Premium (64-bit) |
| Display | | | | 23″ (diagonal) LED HD 1920 x 1080, Glossy, 16:9, Touch Screen | | | | 23″ (diagonal) LED HD 1920 x 1080, Glossy, 16:9, Touch Screen |
| Display Brightness | | | | 250 nits | | | | 250 nits |
| CPU Clock Speed (Max.) | | | | 2.60GHz | | | | 2.70GHz |
| CPU Cache | | | | 3MB | | | | 3MB |
| Standard System Memory | | | | 6GB DDR3 | | | | 8GB DDR3 |
| Maximum System Memory | | | | 8GB DDR3 | | | | 8GB DDR3 |
| USB Ports | | | | 1 x USB 3.0, 4 x USB 2.0 | | | | 1 x USB 3.0, 4 x USB 2.0 |
| Sleep and Charge USB | | | | 1 | | | | 1 |
| Hard Drive (Max.) | | | | 1TB 7200RPM | | | | 1TB 7200RPM |
| Graphics Chip | | | | Intel HD Graphics (Integrated) | | | | Intel HD Graphics (Integrated) |
| Graphics Memory (Max.) | | | | Shared | | | | Shared |
| Speaker | | | | 8W Stereo Speaker (4W x 2) | | | | 8W Stereo Speaker (4W x 2) |
| Audio Type | | | | HD Audio | | | | HD Audio |
| Sound Effect | | | | HD Audio Codec | | | | HD Audio Codec |
| Internal Mic | | | | Yes | | | | Yes |
| Web Camera | | | | 1.3MP HD | | | | 1.3MP HD |
| Keyboard | | | | 104-Key Wireless with Numeric Keypad (Included) | | | | 104-Key Wireless with Numeric Keypad (Included) |
| Mouse | | | | Wireless Optical (Included) | | | | Wireless Optical (Included) |
| Wireless LAN | | | | 802.11 b/g/n | | | | 802.11 b/g/n |
| Bluetooth | | | | 3.0 High Speed | | | | 3.0 High Speed |
| Wired Ethernet LAN | | | | Gigabit LAN | | | | Gigabit LAN |
| Warranty | | | | 1 year standard parts and labor | | | | 1 year standard parts and labor |
| Security | | | | BIOS HDD | | | | BIOS HDD |
| Dimensions (W x D x H) | | | | 22.14″ x 8.39″ x 15.04″ | | | | 22.14″ x 8.39″ x 15.04″ |
| Weight | | | | 18.32 lbs | | | | 18.32 lbs |
Samsung Series 7 Reviews
From Critics Around the Web