Samsung Electronics announced the 20.3-megapixel NX20 compact system digital camera (CSC), replacing the NX11 camera. The new NX20 is their top-of-the-line interchangeable lens camera, which adds built-in Wi-Fi connectivity, a proprietary 20.3 Megapixel APS-C CMOS sensor, full HD 1080p video recording, SVGA electronic viewfinder and swivel, clear 3-inch AMOLED screen.
The NX20 is designed for enthusiast amateur or professional photographers looking for a highly portable camera that gives the professional look and feel of a DSLR but at a fraction of the size and weight. The NX20 offers impressive speed with its 1/8000s Fast Shutter, while its clear 3.0″ clear AMOLED swivel display, increases visibility by approximately 20%. The NX20 also incorporates a range of functions and manual controls in order to deliver pro-standard pictures every time, including SVGA EVF so users can frame images like a professional.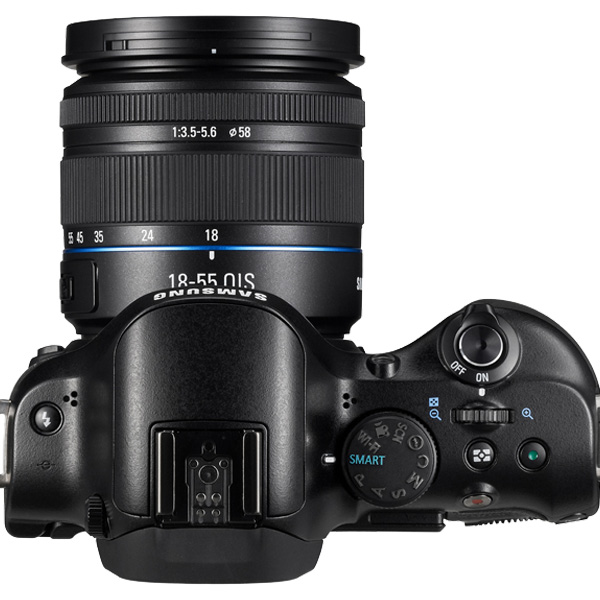 The NX20 is fully compatible with the Samsung's unique i-Function system, enabling users to control parameters using the lens itself, adjusting the image without ever having to move off target. With Samsung's range of nine lenses and professional standard accessories, the NX eco-system ensures that all imaging ambitions can be realized, whatever the user's photographic speciality or interest.
Users can share pictures at the touch of a button, uploading to social networks including Facebook and Picasa, or emailing them to friends and family — all straight from the NX20 camera. The camera also offer further options for capturing and displaying images via other devices, including the ability to link to a Samsung smartphone and use as a remote viewfinder, and — with the Samsung Mobile Link function — to display images on devices such as tablets or internet-enabled TV.
The ten Smart Filters and added Selective Color function allow users to adjust the look and feel of shots as they take them. In addition, the NX20 also features Panorama and 3D Panorama, allowing the whole story to be told in one complete picture. With the Smart Panel, settings and features can be easily accessed and applied, making creative photography easier than ever.
Price and Availability
The Samsung NX20 camera will be available May 2012 for $1,099.99.