Select Samsung HDTVs to Stream Digital Movies and TV shows from Amazon's Video on Demand Service
Samsung Series 7000
Samsung Electronics America Inc. today announced that Amazon Video On Demand will be available on select Samsung HDTVs via a downloadable widget, offering consumers access to Amazon's huge selection of over 50,000 titles from leading movie studios and networks. Starting today, owners of Samsung LCD and Plasma HDTVs Series 650 and above and Samsung LED HDTVs Series 7000 and above can download the Amazon Video On Demand widget for free using the Internet @TV – Content Service feature on their HDTVs. Amazon Video On Demand delivers immediate access to more than 50,000 premium, commercial-free movies and television shows available to rent or purchase on demand. Today's announcement of Amazon Video On Demand availability adds to Samsung's existing Internet @TV lineup, which now includes premium services and content from Twitter, Yahoo!, YouTube and others.
"Consumers have told us they want easy access to premium on demand TV shows and movies, and we're very pleased to continue to offer more ways to do that with Amazon Video On Demand through our Internet @TV — Content Service feature," said John Revie, Senior Vice President of Visual Display Marketing at Samsung Electronics America. "Whether it's watching their favorite Blu-ray movie or instantly streaming their favorite content, we're committed to offering people maximum choice and will continue to be an innovator."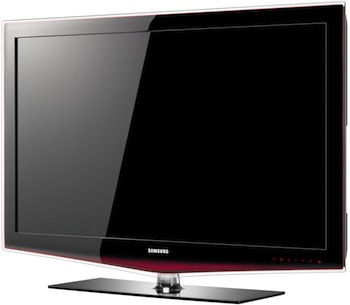 Samsung 650 Series
The Amazon Video On Demand widget allows customers to search, browse, and rent or purchase from Amazon's digital video catalog directly from their Samsung HDTV. Amazon's catalog includes over 50,000 titles with over 2,000 in high definition, and features new-release movies and "day after" broadcast TV episodes. With Amazon Video On Demand, customers pay only for what they want to watch with no subscription required. Customers' purchases are stored online in their Amazon Video On Demand video library which also enables customers to access their videos from PCs, Macs, and other compatible devices.
"We are pleased to offer customers access to our library of over 50,000 movies and TV shows on Samsung's award-winning line of HDTVs," said Bill Carr, Amazon vice president of Video and Music. "Our customers love the experience of getting our service directly in their living room, and Samsung is helping us deliver on the promise of even greater access to thousands of titles directly on the TV."