New Ottomans Unfold to Double as Extra Gamer Seat or Media Storage; Ideal for Growing Families and A/V Systems
Salamander Designs, Ltd., a leading designer and manufacturer of modern furniture, seating and mounting products for Home Theater and A/V entertainment systems, introduces a pair of ultra-practical seating products, the Jump Seat Ottoman and the Storage Ottoman, at the 2008 International Consumer Electronics Show, next month in Las Vegas.
The unique Jump Seat Ottoman unfolds to reveal a hide-away theater seat that can be used as a secondary or extra seat for watching movies or playing video games. The Storage Ottoman unfolds to reveal a capacious compartment ideal for keeping game systems and accessories, DVDs and other media, or anything else, both out of sight and easily accessible.
Both products also serve as traditional ottomans, cushioned surfaces ready to convert a comfortable seat into a luxurious feeling chaise lounge. Either way — as ottomans, or seating and storage — both work equally well with all of Salamander Designs' varied Home Theater Seating Systems.
Jump Seat, Closed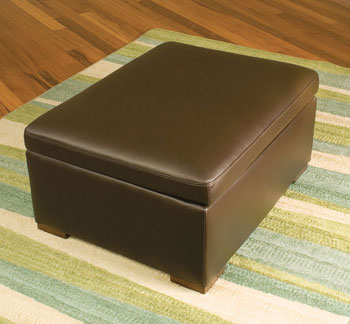 The Jump Seat features a sturdy, patent pending mechanism that helps the top smoothly rise into a vertical position, revealing a padded seat and backrest. The generously sized seat is 21.5 inches wide x 14.5 inches deep, with the back rest 22 inches high. A cup holder and a small compartment for remote controls or game controllers rest along the seat's right-hand side.
The seat is available in 14 leathers, 10 Microsuedes, or a combination of both materials for an appealing two-tone look, in two stitching styles to match Salamander's Home Theater seats. Closed, the Jump Seat measures 31.5 inches wide x 24 inches deep x 16 inches high. It rests on four casters for mobility, with dark espresso wood feet available as options.
The Storage Ottoman is available in 14 leathers or 10 Microsuedes, in two stitching styles. It too is supported by four dark espresso wood feet. The roomy storage compartment measures 24.5 inches wide x 20.5 inches deep x 7.25 inches high. Closed, its overall dimensions are 28.5 inches wide x 23.5 inches deep x 14 inches high. Casters are available as an option to give the Storage Ottoman mobility.
Like other Salamander Designs products, the Jump Seat and Storage Ottoman are constructed of premium components with exceptional attention to detail, reliability and durability. The Jump Seat in particular is another instance of how Salamander's commitment to innovative designs provides dealers and customers alike with new options. Both the Jump Seat and Storage Ottoman smartly complement the company's growing family of seating systems, and assist dealers and custom installers in providing all-in-one solutions, and in conducting more business with their established vendors.
The Jump Seat Close-up

The Jump Seat Ottoman and Storage Ottoman will be available in Spring 2008 from authorized Salamander dealers. They can be seen with the company's other outstanding products in Booth 25911, South Hall 2, Las Vegas Convention Center, during the show.
About Salamander Designs
Salamander Designs, Ltd. is a leading developer, manufacturer and marketer of modern furniture, storage, seating and mounting systems for contemporary Home Theater and A/V entertainment systems. Its versatile, advanced products bridge the gap between home furnishings and home electronics with an unstinting dedication to quality, and a broad range of solutions employing the simple, refined lines of modern design. Salamander's A/V furniture lines — the Chameleon Collection, the Synergy System and the Archetype System — accommodate virtually any design preference and A/V requirement. Its handsome Home Theater seating can be similarly customized with a variety of materials, styling options and accessories, and its new mounting systems for plasma and other flat-panel displays make them easier than ever to integrate with A/V furniture or independently mount onto a wall or ceiling. Salamander Designs was founded in 1990 in Bloomfield, Connecticut, where it continues to be based. For further technical information, visit Salamander's Web site at www.salamanderdesigns.com.