Runco CinemaWall XP-OPAL65
New models include the first plasma to feature Runco's exclusive OPAL™ image-enhancement technology and new DHD 3 controller, delivering superior video quality and the ultimate plasma viewing experience.
Runco today added multiple new 1080p plasma monitors to its line of high-end video display solutions. The five new CinemaWall™ and PlasmaWall™ displays are the world's first to feature Runco's exclusive OPAL (Optical Path ALignment) technology, as well as the most advanced video processor controller to date; Runco's DHD 3.
"As other manufacturers abandon the plasma category, Runco continues to offer the best and broadest portfolio of high-end plasma displays, in addition to our world-class LCD displays and front projectors," says Ben Clifton, Runco vice president of technology. "Our newest plasma models deliver the superior video performance and installation versatility that our custom installation partners, and their clients, demand."
Runco's exclusive display engineering produces deep black levels, impressive brightness and contrast ratio, and the most accurate colorimetry available on all its plasmas. Now, the new plasmas offer Runco's legendary plasma performance, combined with the latest image technology and connectivity and select models offer revolutionary OPAL technology and DHD 3 processing to take video optimization to the highest level available. Runco's proprietary OPAL technology, when paired with plasma, significantly enhances the black level, detail and clarity within dark scenes. It allows the smallest details within the darkest scenes to be vibrant without sacrificing the overall picture quality. Runco OPAL also reduces surface light reflections on the glass plasma screen, a common viewing distraction that plagues other manufacturers' plasma displays. Only available on Runco displays, OPAL provides a truly stellar viewing experience to achieve the best imagery, technology and HD performance in any plasma display application to date.
The new CinemaWall and PlasmaWall plasma displays also feature Runco's signature engineering and sophisticated video processing technologies, including exclusive Vivix™ processing, VirtualWide™ discrete multiple aspect ratio control, a broad array of video input choices, and ISF (ccc) calibration modes for reference level video quality in diverse lighting conditions. The CinemaWall XP-OPAL50 and XP-OPAL65 feature integrated video processing, while the PlasmaWall XP-OPAL50 DHD, XP-OPAL65 DHD and XP-65 DHD3 feature Runco's next-generation DHD 3 external video controller processor, which brings Runco's legendary video processing standards to a flawless new level.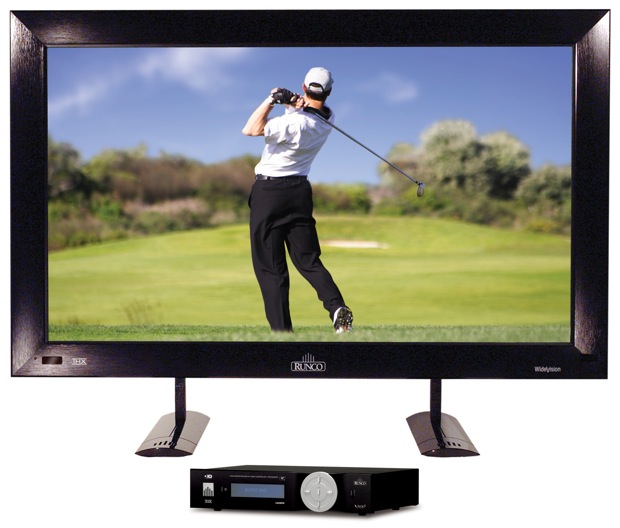 Runco PlasmaWall XP-OPAL50 DHD
Runco's new DHD 3 features Vivix III™ 1080p processing with VirtualWide and new VirtualCinema™ aspect ratios. It is highly compatible with today's video sources, enhancing all digital and analog signals to near-high-definition quality, and matching output resolution, sync types and output formats to prevent "double scaling," which can cause distortion. The DHD 3 also offers custom installers a complete selection of input, output and control ports in an external, rack-mountable form factor for a clean installation to the display.
All Runco plasmas are high-altitude compliant for picture perfection in environments higher than 9,000 feet. A statement piece in any room of distinction, each CinemaWall and PlasmaWall flat panel display is available with Runco's sleek black bezel. The five new flat panels join Runco's XP-50, XP-65 and XP-103DHD plasma displays. MSRPs are as follows:
CinemaWall XP-OPAL50 – $6,995
CinemaWall XP-OPAL65 – $13,495
PlasmaWall XP-OPAL50 DHD – $8,995
PlasmaWall XP-65 DHD3 – $13,495
PlasmaWall XP-OPAL65 DHD – $15,495
Runco is sold exclusively thoruhg its network of dealers, who represent the top echelon in custom home AV.
About Runco
Founded in 1987 and acquired by Planar Systems, Inc. (NASDAQ: PLNR) in 2007, Runco is a market leader in state-of-the-art projection systems, flat-panel plasma monitors, video processors and other components for the custom consumer market. Runco's innovations have won numerous awards and citations from the world press. Runco continues to be a pioneer in the custom video display market.
Planar Systems, Inc is a global leader of specialty display technology providing hardware and software solutions for the world's most demanding environments including hospitals, space and military programs, utility and transportation hubs, shopping centers, banks, government agencies, businesses, and home theaters.