ReQuest, the company that introduced the world's first digital media server, has further pushed the envelope with its innovative iQ System. This is a whole-house digital media system that serves as your central source for music, video, and information.
Summarized below is a compilation of its diverse features:
Audio
The iQ System consists of a media server and 16-channel multiroom amplifier designed to go along with tabletop and in-wall control touchscreens. This system enables the owner to store up to 800 CDs that can be listened to at any point, and viewed by name, title, artist, genre and even cover art on the iQ's screens. Sirius satellite radio is also compatible along with numerous other options!
Enjoy using iTunes? ReQuest has recognized the popularity of this application and has been awarded a patent for its acclaimed NetSync™ technology, which easily synchronizes data on iTunes with the iQ System. Also, those who spend time at a second home can add to their music collection via the internet using NetSync.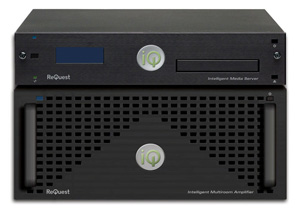 Video
The highly anticipated Intelligent Media Client (IMC) now brings online streaming content and DVD movies into the living rooms of owners of the iQ system. The IMC includes a slot-loading DVD drive to deliver local playback of DVDs, as well as the ability to archive movies. Once archived, the video becomes part of the server's library, available for search, instant recall, and enjoyment in any room of the house via ReQuest's powerful yet simple graphical user interface (GUI). Movie playback is upscaled to 1080p by the IMC for near-HD image quality via its HDMI and component outputs. The IMC also acts as a gateway to online media and offers access to millions of videos from YouTube.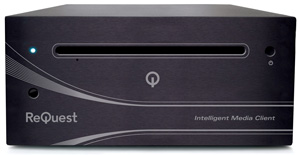 Information Source
Four built-in widgets automatically access the network and internet to provide information throughout the home. Six individually named webcams can be programed to can gain visual access to locations such as the front door at home, the boat-dock at the lake house, the warehouse floor at the plant, and a child's room. In addition, any publicly available webcam can be integrated into the display, providing up-to-the-minute views of weather at your favorite ski resort, or the traffic for your work commute. Besides webcams, the other widgets deliver stock, weather, and calendar information.
Reviews Around the Web:

request iq music