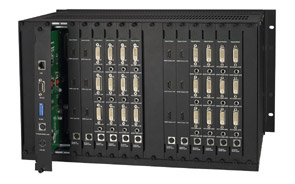 PureLink has been known for manufacturing and providing the most reliable and top performing Integrated DVI and HDMI Matrix Routers since 2004. Recently PureLink's new Modular Digital Matrix Router has been garnering a significant amount of attention due to multi-format to any multi-format with a switching time of under 20 milliseconds.
The new MX-1800 Modular Digital Matrix Router comes in 18×18, 36×36, 80×80 and 144×144. This large scale matrix router can be customized to fit each clients preferences by connecting any multi-format to any other multi-format including DVI, HDMI, CAT5, HD-SDI, FIBER and whatever format that comes out in the future. It's an amazing breakthrough amongst matrix routers because it is the only one on the market capable of such features.
All a client would need to purchase is the chassis for the MX model and then buy modular slot cards separately. The modular slot cards come in 3, 6, 8, and 12 ports in order of the MX model size. This gives you the flexibility to customize the configuration of the matrix router to fit a clients needs. The modular slot cards also have two different formats for DVI and HDMI for HDCP Compliance which also makes it cost effective since it may not be necessary in certain configurations. There is a limited amount of matrix routers in existence that can support HDCP with such a large scale matrix router.
The matrix router supports 1080p HD resolution and also provides the most advanced EDID management available right now. This unit also has a touch screen which enables the user to operate and control it by a single touch. This unit can also be controlled by RS-232, LAN or externally with other controllers such as Barco Encore and Vista Spyder.
Once again PureLink outperforms all other competitors by delivering the most advanced technology. When it comes to the critical needs of our clients, PureLink products will not fail nor falter when it comes to reliability and performance.