Intel Atom Processor-Based Miniaturized Industrial PC System-in-a-Box Provides Fanless Lower Power Consumption in Ruggedized Eco-Friendly Body
American Portwell Technology, Inc., announces the new WEBS-1010. At just 4 x 4.5 x 1.05 and weighing in at a meager 13 ounces, the WEBS-1010 is an ultra compact, fanless and noiseless embedded PC system based on the Intel Atom Z530/Z510 processor.
The tiny WEBS-1010 is packed with features its much larger cousins would envy: Intel US15W SCH and GMA 500 chipset, 1GB onboard DDR2 SDRAM, 2.5 SATA HDD or SSD, DVI output up to 1920 x 1080, 802.11G wireless option and Gigabit Ethernet, high definition 2.0 audio, programmable IR receiver and support for Microsoft Windows XP Embedded, Windows XP, Windows Vista and Windows 7 operating systems, and Linux operating systems.
American Portwell Technology is a wholly owned subsidiary of Portwell, Inc., a world-leading innovator in the embedded computing market and a member of the Intel Embedded and Communications Alliance (Intel ECA). The WEBS-1010's fanless design makes it ideal for mission critical applications. It is noiseless and, if built with a solid state disk, absolutely silent. The Intel US15W SCH with GMA 500 supports 2D, 3D and advanced 3D graphics, high definition video decode and image processing. WEBS-1010's durable die-cast aluminum body makes it the perfect choice for industrial automation. It is also an excellent choice for applications in medical healthcare, automotive, multimedia, POS, gaming, kiosk and digital signage.
Most power-efficient Intel Atom PC to date
"The key differentiator for the WEBS-1010," says Jack Lam, American Portwell Technology's senior product marketing manager, "is that it is also eco-friendly. We develop the WEBS-1010 around the Intel Atom Z530 1.6 GHz processor with ultra low power US15W SCH rather than the Atom N270 used in other nettop PCs. This actually reduces power consumption by more than two thirds. This kind of power conservation allows the WEBS-1010 to run Windows XP or Linux, for example, at just six watts and," Lam continues, "play full HD 1080p H.264 video using less than seven watts."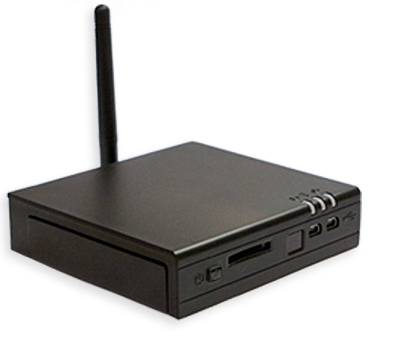 Ultra compact embedded PC yet fully loaded
"The new WEBS-1010 may look like an appliance because of its compact size," says Frank Shen, American Portwell Technology's product marketing director, "but it's a fully-loaded PC with LAN and WLAN, six USB ports, one GB RAM and much more. With low cost and low power, the WEBS-1010 can be on '24×7.' What's more," Shen adds, "our customers not only benefit from WEBS-1010's ease of use and space saving," he confirms, "but they also can count on American Portwell's ability to consistently deliver products with the most up-to-date technology and features."
About American Portwell
American Portwell Technology, Inc., is a world-leading innovator in the Embedded Computing market and a member of the Intel Embedded and Communications Alliance. American Portwell Technology designs, manufactures and markets a complete range of PICMG computer boards, embedded computer boards and systems, and rackmount systems for both OEMs and ODMs. American Portwell is both an ISO 9001:2000 and ISO 13485:2003 certified company. The company is located in Fremont, California.