Polaroid today announced that the billions of digital images trapped on hard drives and cell phones around the world can now experience the joy of Polaroid instant printing with the GL10 Instant Mobile Printer. The first product in Polaroid and Lady Gaga's new Polaroid Grey Label line, the GL10 features a small size, intuitive design and easy-to-use feature set that produces Polaroid Classic Border, full bleed and contemporary 3×4'' photos in less than one minute — making it a portable photo booth that allows you to bring Polaroid magic wherever you go.
Designed by Polaroid and Lady Gaga as both a creative tool and fashion accessory, the GL10 gives your digital photos more power and emotion than a "like" button ever could. Bring it to a party. Pack it in your carry-on bag. Play with it in the office. No matter where you take it, the GL10 breathes new life into the digital images that shape our stories.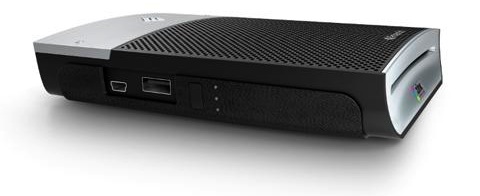 Marrying the convenience of today's digital images and the original Polaroid instant experience, the 15-ounce GL10 printer works from most mobile phones wirelessly via Bluetooth and from most digital cameras, Windows PCs and Macs via a USB cable and provides the classic Polaroid instant experience using the ZINK Technology:
Advanced Technology: The newest instant printing experience begins with the embedded dye-crystal ZINK® Zero Ink® Technology from ZINK Imaging. The patented ZINK Paper is an advanced composite material with cyan, yellow, and magenta dye crystals embedded inside. Before printing, the embedded dye crystals are clear, so ZINK Paper looks like regular white photo paper. The GL10 uses heat to activate and colorize these crystals.
Superb Print Quality: The GL10 Instant Mobile Printer uses ZINK Imaging's second generation of the ZINK Technology, delivering vibrant and highly saturated prints. ZINK prints emerge fully developed and protected by a smudge-proof, water-resistant coating.
Aesthetically Pleasing and Environmentally Responsible: Designed for both form and function for use both in the present and future. ZINK Technology requires no messy ribbons, toner or inkjet cartridges to throw away.
"I love all the Polaroid Grey Label products but I'm the most excited about the printer," said Lady Gaga, Polaroid's Creative Director. "This product will revolutionize how we see photos. Your images will no longer die a death on your cell phone or digital camera."
"With the GL10, there are no more excuses to hold digital images captive on mobile phones or just look at them on small, dim camera screens," said Polaroid's Scott W. Hardy, President. "The Polaroid Grey Label debut product merges Polaroid's rich 73-year history with Lady Gaga's mission of empowering the people of the world to unleash their creativity."
Featuring elegant brushed metal and textured surfaces with leather accents, the simple, clean design and straight forward feature set of the GL10 makes instant photo printing effortless. Making it easy to instantly create, print and share on the go, the rechargeable battery of the GL10 prints up to 40 images.
Polaroid is also introducing an exclusive and free Android app for fun, fast editing as well as adding borders and special Polaroid filters in order to enhance pictures prior to printing. Apps for the GL10 Instant Mobile Printer on other mobile platforms will be introduced throughout 2011.
Price and Availability
The GL10 Instant Mobile Printer will be available in May 2011 (US, $149.99 MSRP). ZINK 3×4'' paper will be available in May 2011 at a price to be announced.
Polaroid GL10 Reviews
From Critics Around the Web