Wirelessly Connects Any A/V Component to Any HDTV, While Maintaining 1080p Quality
Philips Electronics confirmed U.S. retail availability for its much-anticipated Wireless HDTV Link (SWW1800/27) that uses innovative technology to wirelessly deliver superior high-definition TV picture quality (up to 1080p) without ruining the aesthetics of the home. Unsightly wires are a digital burden of the past with the Philips Wireless HDTV Link which replaces the cables that connect the HD cable set-top box, HD satellite receiver, Blu-ray player and gaming console to a HDTV.
Just in time for holiday gift-buying, Philips Wireless HDTV Link is currently available for purchase at amazon.com and dell.com with a manufacturer's suggested retail price of $799. It will be sold at Sam's Club, samsclub.com and Costco.com beginning November 2009. The company will expand the product's national brick and mortar retail availability in late fourth quarter 2009 and early 2010.
"Wireless HDTV Link is technology that consumers are demanding — and Philips' wireless product provides solid HD performance and improves aesthetics of the home without the cost or hassle of a custom installation," said Nico Riggio, Vice President, P&A/AVM, Philips Consumer Lifestyle.
With Philips Wireless HDTV Link, you can relocate your HD devices (set-top box and other AV components) up to 75 feet away from the TV without signal loss or degradation. The Wireless HDTV Link also offers an alternative to costly, labor-intensive in-wall custom installation and a solution where in-wall custom installation is impossible (concrete, stone or brick walls).
The Wireless HDTV Link allows you to connect four AV devices to your TV, two digital HDMI™ connections and two component connections. Users have the freedom to switch between these devices simply and quickly, without having to change cables and plugs in between uses.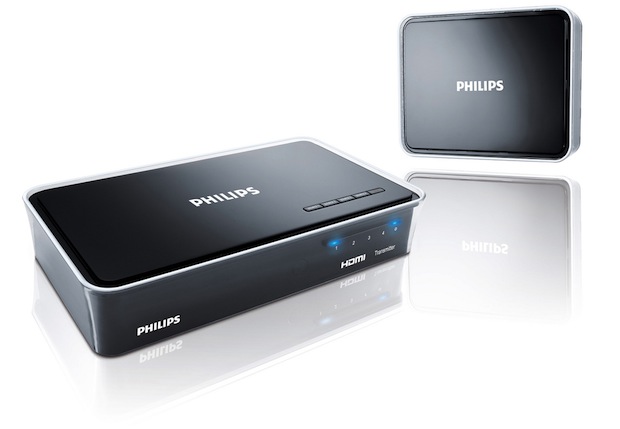 Philips Wireless HDTV Link is one of the first digital wireless technologies that transmits up to a 1080p HD signal and negates the need for cables, combining form and function. The receiver is specially designed to fit behind standard TV wall mounts so that it is out of sight and won't ruin the aesthetics of the room.
Make your TV wire free
Place your HDTV at the best location in the room without the burden and limitations of multiple HDMI and AV cables running across the walls
Relocate your AV components (Blu-ray players, cable and satellite set-top-boxes, game consoles, DVD players) out of sight for a better aesthetics of your living room
Place your HDTV anywhere within a room even in challenging areas such as above fireplaces or in passageways
Bring the best quality high-definition TV signal (up to 1080p) wirelessly to a projector on the ceiling without the cables

Enjoy HD without constraints
Digital transmission of up to 1080p — the signal is never compressed and retains all the attributes as if it were transmitted through a standard HDMI cable
Operates anywhere within a 75-foot range of the TV — in an entertainment center or on the other side of the room — without signal loss or degradation
Connects to up to four devices: two HDMI connections and two component video inputs