Makes Transferring, Saving and Sharing Treasured Memories Easy by Digitizing Print Photos, Negatives and Slides
Pandigital today announced the addition of two new portable photo scanners to its award-winning line of PhotoLink Scanners. The PhotoLink One-Touch 5×7 Scanner and the PhotoLink Personal Photo Scanner make it easier than ever for consumers to enjoy and share treasured memories by transferring traditional prints, slides and negatives into digital images.
"The new PhotoLink scanners give users the motivation to finally digitize the millions of negatives, slides and print photos they have to enjoy and share them now and with future generations," said Dean Finnegan, CEO and founder, Pandigital. "Since the PhotoLink scanners work with the touch of a single button, without expensive and confusing hardware, they allow customers to quickly and simply preserve images and enjoy memories that would have otherwise been filed away in a photo box, slide projector, or photo album."
PhotoLink One-Touch 5×7 Scanner Makes Sharing Memories Easier
The new Pandigital PhotoLink One-Touch 5×7 Scanner (PANSCN04) allows consumers to scan 5×7-inch (or smaller) traditional prints onto a memory card or directly to a PC for immediate transfer or enjoyment. To use the PhotoLink One-Touch 5×7 Scanner, users simply insert a photo into the feed area of the scanner and push the button to begin. The result is a stunning digital replica of the original at 1800×1200 pixels and 600 dpi clarity.
The PhotoLink One-Touch 5×7 Scanner can be used right out of the box with no software to install. This new scanner helps customers save and enjoy their favorite memories by scanning their print images to the most popular memory cards (SD, MS, MS Pro, MMS, XD) or by using the included USB cable to connect the PhotoLink Scanner via its mini-USB port directly to a computer. A 512MB SD card is included with this scanner.
The device is incredibly portable, weighing only one pound and measuring only 7.5 (W) x 1.75 (H) x 3 (D) inches. As a result, it's easy to take it anywhere to scan and share photos with friends and loved ones.
PhotoLink Personal Photo Scanner Brings Old Images Back to Life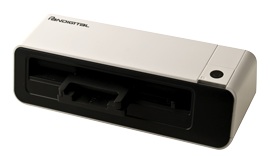 The Pandigital PhotoLink Personal Photo Scanner (PANSCN05) enables consumers to digitize slides, negatives and prints, allowing the preservation and enjoyment of memories that are on all types of older formats.
The PhotoLink Personal Photo Scanner works similar to the PhotoLink One-Touch 5×7 Scanner by placing a slide, 35mm negative or print photo (4×6 or smaller) into the device and pushing a single button. The images can be scanned and transferred directly to a memory card or PC or for instant viewing and transfer onto any digital photo frame, PC, or other device that reads memory cards. This scanner also comes with a 512MB SD card.
The PhotoLink Personal Photo Scanner scans images at a high-resolution of 300 dpi, and slides or negatives at an ultra high-resolution of 1200 dpi. It features auto-feed, cropping tools, color balancing and film-type detection, allowing users to select optimum image quality and preview the color image when scanning, unlike other slide and negative scanners that typically only allow previews of the negative image.
Product Availability and Pricing