World's First1 Waterproof, Shockproof and Dustproof Digital Camera with AVCHD Lite HD Video Recording Capabilities2
Panasonic today introduced the LUMIX DMC-TS1, the world's first1 waterproof, shockproof and dustproof digital camera2 to also feature AVCHD Lite High Definition (HD) video recording capabilities3. The TS1's tough and rugged design makes it the ideal choice for active users needing the ultimate hybrid for capturing both still and motion images during outdoor activities. The LUMIX TS1, with a 12.1 megapixel resolution, features a 28mm wide-angle LEICA DC VARIO-ELMAR lens, a 4.6x optical zoom and Panasonic's proprietary iA (Intelligent Auto) mode, making this an easy-to-use, yet powerful camera that packs advanced imaging features.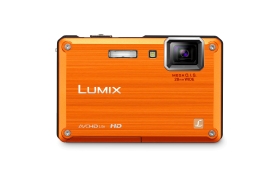 "Many consumers are hesitant to take their digital cameras on outdoor activities like skiing, hiking, boating or even a day at the beach, for fear it will be damaged. With the introduction of the LUMIX TS1, we offer a digital camera with a rugged design that consumers can feel confident using in these tough environments," said David Briganti, National Marketing Manager, Imaging, Panasonic Consumer Electronics Company. "Even more, with the ability to take both beautiful high-quality still images and High Definition video, with AVCHD Lite, the TS1 offers a powerful one-two punch to capture memories that can later be shared with friends and family."
The TS1 is waterproof to a depth of 10 feet, shockproof from falls up to 5 feet, and dustproof. With its rubber padding, reinforced glass and carbon resins inside the camera, the TS1 features an airtight body protected against water immersion, dust and sand.
Starting at the 28mm wide angle, and zooming up to a useful 128mm in telephoto, the TS1 gives users the flexibility for a variety of shooting environments — especially underwater, where movement is often restricted and the angle of view becomes important for composing shots. The TS1 also features a 2.7-inch, 230,000-dot Intelligent LCD with a wide viewing angle, enhancing visibility during recording and playback by automatic brightness control according to the environment's lighting conditions. Plus, the TS1's LCD panel is deliberately thickened for protection against pressure, allowing the display to operate with clear visibility even underwater.
The TS1 records AVCHD Lite HD video, allowing almost double the recording time in HD quality compared with the conventional Motion JPEG format. The TS1 also features Dolby Digital Creator to record high quality audio to match the high-quality motion images.
Also new in 2009, the TS1 features iA mode for both still images and in Movie Mode. For iA in Movie Mode, the TS1 features Optical Image Stabilization (O.I.S.), which helps prevent handshake when using high-powered zoom. Face Detection automatically detects a face in a frame and adjusts focus, exposure, contrast, and skin complexion on the face. Intelligent Exposure continually checks the ambient light level and adjusts the exposure setting as conditions change to prevent blown highlights and blocked shadows. And Intelligent Scene Selector automatically switches between Normal, Portrait, Macro, Scenery, and Low Light modes according to the situation to optimize visual quality. A Wind Cut function is also available to block out most of the noise from background wind. Optical zoom can be used in motion image recording. Users can start video recording by simply pressing a dedicated button on the camera's back panel.
The TS1's iA for still image adds Face Recognition4 — a feature that "remembers" faces from previous shots. When a registered face appears in the frame, the camera will prioritize focus and exposure to capture it beautifully. With Face Recognition, when a familiar face is recorded several times, the camera will prompt you to register the face. Once registered, if the face appears into the frame again, the camera will display the name specified for that person and prioritize focus and exposure so that the registered face is bright and sharply focused.
The imaging power of LUMIX has further evolved with the Venus Engine HD, which boasts two CPUs to provide approx. 2.4x processing capability and support for Face Recognition, AVCHD Lite and HDMI output. It integrates the numerous advanced functions with high performance, and low-power consumption. Thanks to the Venus Engine HD, it's easy to view photos or movies recorded in AVCHD Lite. Simply insert the SD Memory Card from the camera in the Panasonic VIERA HDTV's Image Viewer SD Memory Card slot to start playback, or connect the camera via an optional HDMI mini cable to a VIERA Link™-equipped Panasonic VIERA HDTV and use the TV's remote control to run slideshows5.
This multi-task image-processing engine also enables a fast response time. The TS1 starts up quickly in 1.3 seconds and shutter release time lag is approximately 0.005 seconds, making it easy to capture sudden, spur-of-the-moment photo opportunities. The Flash Burst mode makes it possible to take consecutive shots with continuous emissions of the flash6. The Venus Engine HD also supports a High Sensitivity mode that lets the TS1 record up to ISO 64007, sensitive enough to capture subjects in near-total darkness without using a flash. Despite its outstanding performance, the high performance engine is also more energy efficient, extending the battery life up to 340 shots (CIPA) per a single charge.
Other features of the LUMIX DMC-TS1 include:
New Scene Modes for Still Images: Beach & Surf mode gives users a single mode with optimized auto white balance for optical shooting on the beach and in shallow water.
New Panorama Assist scene mode allows users to shoot a number of consistent photos, either vertically or horizontally, by aligning them according to a guide that overlaps the screen. Then using those photos and the bundled PanoramaMaker software, users can create dramatic panoramic images.
Increased Scene modes for both still and motion image shooting — optimized for a variety of situations. There are 26 scene modes for still image and 17 for motion image (Portrait, Soft Skin, Transform, Self Portrait, Scenery, Low Light, Food, Party, Candle Light, Sunset, High sensitivity, Beach & Surf, Snow, Aerial, Pinhole, Film Grain and Underwater)
LED Illumination is available in motion image recording.
High-Speed Burst (Speed Priority) that fires off approximately 10 shots per second8.
Menus are clearer and easier to navigate with the Display Size option.
Macro Zoom function lets users pull subjects even closer to capture dramatic close-up shots by using the 3x digital zoom in the wide-angle.
Bundled Software: The latest version of PHOTOfunSTUDIO 3.0 HD Edition allows users to view, edit and archive captured content with greater ease and fun. Still and motion images can be transferred to the computer via a USB cable for viewing and archiving. Using PHOTOfunSTUDIO 3.0 HD Edition, users can edit and remove unwanted portions of video clips recorded in AVCHD Lite. Contents recorded in AVCHD Lite can be burned directly onto a DVD disc or converted to MPEG2 format. The software also incorporates the Face Recognition function, which recognizes registered faces in photos stored on the computer, making organizing and archiving photos with a specific person much easier. Additionally, motion pictures can be uploaded directly to YouTube.
The Panasonic LUMIX DMC-TS1 will be available in silver, green or orange models in April 2009 for a suggested retail price of $399.95. For more information, please visit www.panasonic.com/lumix.

1 As of 1/27/2009.
2 About Waterproof / Dustproof performance of the camera This camera is waterproof / dustproof equivalent to "IP58", and is possible to record at a maximum of 3.0 m depth/60 min. This does not guarantee non-destruction, non-malfunction, and water-proofing in all conditions. Please observe specified precautions and avoid product-use beyond the guaranteed underwater duration, or beyond the guaranteed depth of water.
Attention
To prevent water leakage, confirm that there is no foreign object near card/battery door then close door by pressing until it clicks.
Use underwater up to 3.0 m depth and not longer than 60 minutes continuously.
Do not leave under low temperature in the cold climate, or where the temperature is above 40 degrees C for a long period of time.
When the unit is splashed with detergent, soap, hot spring, bath additive, sun oil, sunscreen, chemical, etc., wipe it off immediately.
After use at the seaside or underwater, soak the unit in fresh water pooled in a shallow container for 10 minutes or less. Do not leave uncared for more than 60 minutes after using underwater. It may cause deterioration of the waterproof performance.
Foreign materials may be attached if the zoom lever or mode dial does not move smoothly. Soak the unit in fresh water, shake it well and then wash the zoom lever and mode dial with tap water.
To maintain the waterproof performance, it is recommended that the waterproof seal (with fee) is replaced at least once every 1 year at the user's expense at the retail store where you have bought the camera.
About Shockproof performance of the camera
This camera has passed a drop test from 1.5 m in height in accordance with "MIL-STD 810F Method 516.5-Shock", but this does not guarantee non-destruction, non-malfunction, and water-proofing in all conditions. Water-proofing is not guaranteed if the unit is subject to an impact as a result of being hit or dropped etc.
Drop Test
Test standard: MIL-STD 810F Method 516.5-Shock
Drop height: 1.5m
Drop surface: 5cm thick plywood
Number of units tested: 5
Drop orientations: 26 (each face, edge and corner)
Number of drops: 1 (for each orientation)
Unit inspected after each drop and found to be operating within product specifications. Change of appearance — paint-loss or deformation not measured.
3 The "AVCHD" is a high definition (HD) digital video recording / playback format jointly established by Panasonic Corporation and Sony Corporation. The "AVCHD Lite" is a subset of the "AVCHD format" for HD digital video cameras with HD video recording restricted to 720P. The new "AVCHD Lite" Logo and the "AVCHD Lite" License are restricted to devices within the AVCHD Video Camera category. Digital cameras have now been added to the AVCHD Video Camera category. For more details, please refer to the "AVCHD Information Website". http://www.avchd-info.org/
4 Depending on background and facial expression, camera may not recognize a registered person.
5 AVCHD Lite motion images recorded onto an SD Memory Card or a DVD disc cannot be played from a device that does not support the AVCHD standard.
6 In 3-megapixel (4:3), 2.5-megapixel (3:2), 2-megapixel (16:9) recording.
7 Max. 5 images. In 3-megapixel (4:3), 2.5-megapixel (3:2), 2-megapixel (16:9) recording.
8 3-megapixel (4:3), 2.5-megapixel (3:2), 2-megapixel (16:9) recording. (10fps in Speed Priority mode / 6fps in Picture Priority mode)