Olympus today announced the VG-110, a sleek, smart, pocket-sized point-and-shoot with a 12-megapixel sensor to create large prints and 4x wide-angle zoom to help you capture your memories. The VG-110 also boasts Magic Art Filters to achieve a new level of artistic expression, AVI movie, AF Tracking to capture fast moving subjects, Digital Image Stabilization and a 2.7-inch LCD, all for the affordable price of $99.99. To add to these features, the Olympus VG-110 is a multi-function camera that's great for both the beginner and someone who's been photographing for years. It is available in black, red or silver to suit your individual style.
Perfectly Frame Your Work with Each Shot
No more worrying about achieving the frame you desire. With the 26mm 4x wide-angle optical zoom, you can produce it effortlessly. Guaranteeing that each shot will be as beautiful and crisp as you had hoped, no matter how large you want it.
Magic Art Filters
The Olympus VG-110 is equipped with in-camera Magic Art Filters that enable users to enhance and customize images as they're being captured. Have more fun and flexibility without expensive and time-consuming computer software.
The Magic Art Filters include:
Pop Art — enhance and saturate colors to create vivid, high-impact pictures that express the joyful, lighthearted feeling of the Pop Art style of the 1960s;
Pin Hole — reduce the peripheral brightness of an image as though it were shot through a pin hole, connecting the viewer intimately with the subject at the center;
Fish-Eye — emulate the wide-angle of a fish-eye effect lens by taking extremely wide, hemispherical images and magnifying the center of the frame;
Soft Focus — encloses the foreground of an image in gentle, pastel colors with a soft, elegant focus; similar to effects achieved in a studio;
Drawing — turn your image into a sketch outline for children to color;
New! Sparkle — shoot photos with the luxurious feel of added twinkling lights; and
Punk — create two-tone images full of rock-and-roll spirit.
AF Tracking
AF Tracking technology locks on your fast-moving subject and continuously adjusts focus and brightness. This enables you to keep fast-moving, unpredictable subjects like small children in focus for the perfect shot.
Video Recording
The Olympus VG-110 shoots amazing video, allowing every day to be a movie day. Playback is also a breeze. Gone are the days of friends and family huddling around a tiny LCD to see the pictures you just snapped.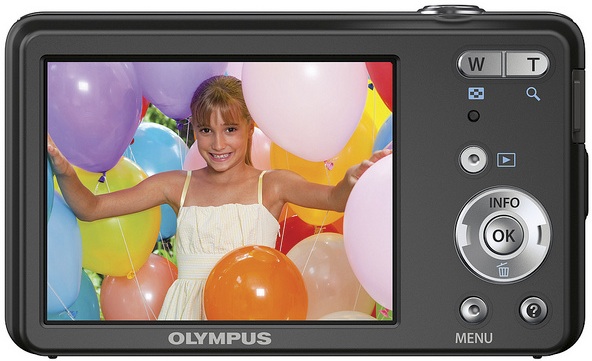 Reviewing your Shots
With a 2.7-inch display, reviewing all your shots just got a lot easier. With just the click of a button, your crisp photos are displayed right before your eyes, enabling you to choose the perfect one to share with everyone.
Digital Image Stabilization
The Olympus VG-110 features Digital Image Stabilization (DIS) to capture crisp, clear pictures. By boosting the camera's ISO sensitivity and shutter speed, DIS freezes the action and provides virtually blur-free images, even when you or your subject is moving.
Face Detection
The Olympus VG-110 detects up to 16 faces within the frame and automatically focuses and optimizes exposure to capture sharp, brilliant portraits and group shots. Even more remarkable, the VG-110 comes equipped with Beauty Mode. Designed to touch up the appearance of your subject's skin as the photo is captured, enhancements that typically would necessitate retouching in a graphics editing program.
Intelligent Auto
With the Intelligent Auto Mode in the Olympus VG-110, your camera knows and it automatically identifies what you are shooting (i.e., Portrait, Night + Portrait, Landscape, Macro and Sports) and adjusts the camera's settings to capture the best quality results. Anyone has the ability to jump into this quick and hassle-free feature that does the thinking for them and produces incredible images.
In-Camera Editing
Olympus' Perfect Fix feature offers quick solutions for unanticipated image quality issues, which may be caused by several adverse conditions. Lighting Fix can be used to adjust any underexposed areas and Red-Eye Fix can be used to reduce the effects of red-eye sometimes caused by a direct flash. Additional in-camera editing functions can be quickly accessed right in the camera by the touch of a button; features available include resizing and trimming.
Scene Modes and In-Camera Help Guide
The new Olympus VG-110 has 14 scene modes and enhanced In-Camera Help Guides that make digital photography simple and fun for users of all ages and skill levels. The scene modes include portrait to capture loved ones, landscape to show off the scenery, a fun fireworks mode and a specially designed "Pet Mode" to help animal lovers capture man's best friend.
The In-Camera Help Guide displays a brief description of camera settings and features on the LCD enabling consumers to easily adjust ISO and white balance settings using the Program Auto mode. Additionally, Exposure Compensation enables users to preview and select various exposure effects on a live, multi-frame window on the LCD before snapping the shot. This smart feature allows users to see precisely what the image will look like when adjustments are made, ensuring they are capturing the exact image desired. Program Auto and Exposure Compensation are great modes that enable novice users to get results like the pros while learning about the effects of different photography techniques. Menus are available in various languages for convenient operation.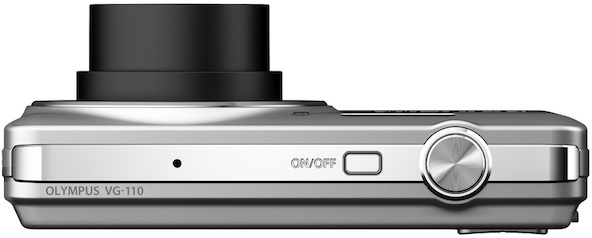 SD Compatibility
With SD compatibility, the Olympus VG-110 allows users to share their work easily through SD-compatible computers, digital picture frames and HDTVs.
OLYMPUS [ib] Software
All Olympus digital compact cameras now offer the new OLYMPUS [ib] photo organizing and editing software. It includes photography workflow, browsing, editing and unique photo organizing functions. You can organize photos by person with automatic face-recognition technology, by place with a map-tagging function, or by event. All information will be tagged in each photo's data. You can then easily upload images to the integrated online service, [ib on the net], to share and backup photos, as well as order prints and photo merchandise. The name [ib] stands for image bridge, because the software is designed to create a bridge to help you get images from your camera to services where you can do more with your photos.
Price and Availability
The Olympus VG-110 will be available in February 2011 for $99.99. It will ship with a Lithium Ion Battery, USB Cable, Audio/Video Cable, Wrist Strap, Instruction Manual, Warranty Card and OLYMPUS [ib] software.