| | | |
| --- | --- | --- |
| | | |
| Nokia C1-00 | Nokia C1-01 | Nokia C1-02 |
Nokia unveiled its latest Cseries mobile phones with three new products under the Nokia C1 name, as well as the new dual-SIM Nokia C2 which will follow at the end of the fourth quarter of 2010. At the same event, Nokia also took the wraps off the Nokia Bicycle Charger Kit, an alternative charging solution built especially for people with limited access to electricity.
The most affordable of the Nokia C1 trio (C1-00) is priced at EUR 30 before taxes and subsidies and is the first Nokia mobile phone to feature a 2-in-1 double SIM solution. "By simply holding down a key, people are able to switch between SIM cards. This enables them to take advantage of reduced call rates, flexibility when traveling from one country to another, or helps with sharing a phone within a family and still use their own SIM," said Alex Lambeek, Vice President at Nokia. "This is a great added convenience feature considering the low price of the phone."
Nokia C1 owners will also benefit from a standby battery time of up to six weeks, the longest ever for a Nokia mobile phone, especially useful in those parts of the world where access to electricity is sometimes limited. The standard flashlight – often someone's only means of bright light – is paired with a vivid color screen and FM radio with standard headphone jack, meaning the Nokia C1 is as much about entertainment as it is about convenience.

Nokia C2-00
The Nokia C2 features a dual SIM with dual standby capability. Along with the many capabilities of the Nokia C1, the Nokia C2 can also keep both SIM cards active; meaning calls and text messages can come to either number while the phone is on. The first SIM card on the Nokia C2 sits underneath the battery and the second is 'hot-swappable', a feature unique to Nokia which means it can be removed and inserted when the phone is on.
Where available, the Nokia C2 also offers a wide range of information covering healthcare, agriculture, education and entertainment via Nokia's Ovi Life Tools, as well as the email account for the developing world, Ovi Mail. In addition to Ovi Mail, people's favorite consumer email and chat accounts can be pushed direct to the phone via Nokia Messaging. Listening to music is simple with the FM radio and music player, with a massive amount of music storage with the phone supporting micro-SD cards of up to 32GB.
The second and third devices in the Nokia C1 family (C1-01 and C1-02) are both single SIM products, and Nokia's most affordable devices offering microSD compatibility, enabling people to store up to 32 GB of music, photography, or whatever other media suits them. Both new devices bring very individual designs and exciting colors, bright color screens, web browsing over GPRS and access to Nokia web services such as Nokia Messaging. In addition, owners of the Nokia C1 (C1-01) will also be able to take video and photographs using the built-in VGA camera.
New alternative charging solution debuts
Providing free and environmentally friendly electricity for mobile phones, the Nokia Bicycle Charger Kit consists of a charger and dynamo, as well as a holder to secure the phone to the bike. When the kit is installed, the dynamo – a small electrical generator – uses the movement of the wheels to charge the handset through the standard 2mm charging jack used in most Nokia mobile phones. Lambeek continued, "You must look at a number of things when it comes to power management – such as ensuring the phone's operating system is as power-efficient as possible. Now, with our innovative bike charger, people get even more freedom to use their Nokia without worrying about battery life.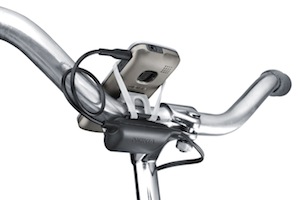 Bicycles are the most widespread means of transport in many markets around the world, so this is just one more benefit to be gained from an activity people are already doing. This is a great solution to a real challenge, whether people will use it due to limited access to electricity, or to be more environmentally responsible." The kit will be available before the end of the year in selected retailers and Nokia online and branded retail.
The estimated retail prices of the new Nokia mobile phones, before taxes and subsidies, are: