Handheld 3D gaming, no glasses required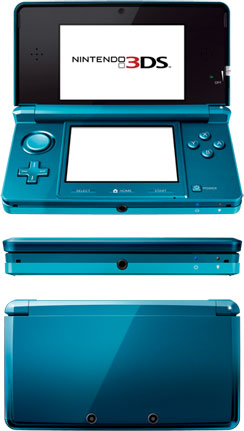 At the E3 Expo today, Nintendo gave the world the first look at a portable system that lets people view games in 3D, without the need for special glasses. Nintendo also announced a substantial list of upcoming games for Nintendo 3DS, the Wii console and the Nintendo DS family of systems — a lineup that reads like a who's who of some of the greatest franchises in video game history with a completely new look and feel.
"The additional dimension of depth in 3D makes it easier for players to judge distances while giving developers a new tool to create games and experiences that play with both height and depth," said Nintendo video game designer Shigeru Miyamoto, who pioneered the fully rendered 3D video game world with Super Mario 64™.
Nintendo 3DS comes with a 3.53-inch top screen and a 3.02-inch bottom touch screen. It has three cameras — one inner and two outer — to deliver the 3D effect and take 3D pictures. It includes a motion sensor, a gyro sensor and even a Slide Pad that allows 360-degree analog input.
Specifications
Size (when closed): Approximately 5.3 inches wide, 2.9 inches long, 0.8 inches tall.
Weight: Approximately 8 ounces.
Top Screen: 3.53-inch widescreen LCD display, enabling 3D view without the need for special glasses; with 800×240 pixel resolution (400 pixels are allocated for each eye to enable 3D viewing).
Touch Screen: 3.02-inch LCD with 320×240 pixel resolution with a touch screen.
Cameras: One inner camera and two outer cameras with 640×480 (0.3 Mega) pixel resolution.
Nintendo 3DS Game Card: 2 GB Max. at launch.
Wireless Communication: Can communicate in the 2.4 GHz band. Multiple Nintendo 3DS systems can connect via a local wireless connection to let users communicate or enjoy competitive game play. Systems also can connect to LAN access points to access the Internet and allow people to enjoy games with others. Will support IEEE 802.11 with enhanced security (WPA/WPA2). Nintendo 3DS hardware is designed so that even when not in use, it can automatically exchange data with other Nintendo 3DS systems or receive data via the Internet while in sleep mode.
Update (Jan 20, 2011)
Nintendo 3DS will be available in the U.S. on March 27, 2011 for $249