Vibrant OLED touch screen operation and advanced functions served up in style with the tactile sophistication of dual texture design
Nikon Corporation is pleased to announce the introduction of the COOLPIX S70. Featuring Nikon's innovative Clear Color OLED display and a highly responsive capacitive touch screen, the COOLPIX S70 is the smart and fashionable photographic tool that makes picture-taking a greater joy.
The COOLPIX S70 introduces Nikon's newly developed 3.5-in. Clear Color OLED Display with refined touch control that offers a new level of intuitive fingertip shooting control and a variety of exciting playback options.
OLED technology delivers the immediately recognizable benefits of vivid color reproduction, sharp contrast, and absence of afterimages. Nikon combines this with our own innovative Clear Color Display technology, making the large 3.5-in. OLED display a real eyeful. In addition highly responsive new capacitive touch screen technology adds the benefit of sure and immediate response at the lightest touch of the display's glass surface for a fun and intuitive feel to every camera operation.
Advanced new shooting features that leverage this quick and easy fingertip control include Touch Shutter, which, at a single touch, releases the shutter after focus and exposure are locked on the subject. In addition, new on-screen sliders provide touch control over brightness (exposure) and Scene Effect Adjustment.
Touch control also makes viewing and retouching images more fun and efficient. The speed and ease of fingertip scrolling through images is matched only by the fun of using a pinching motion with two fingers to zoom in or out on displayed images, switch between thumbnail and full screen views, and so on.
High-performance imaging capabilities include 12.1 effective megapixels of sharp resolution matched to the compositional freedom of a precision 5x zoom NIKKOR lens that ably covers focal lengths from 28-140mm (35mm format equivalent). Advanced digital image-processing faithfully reproduces fine details and subtle tones, delivers quick response, and maintains image quality and clarity when taking advantage of extended light sensitivity settings as high as ISO 6400*.
Nikon COOLPIX S70 Feature Highlights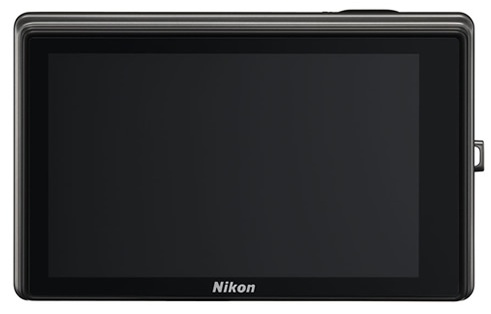 New 3.5-in. Clear Color OLED Display with touch control
The COOLPIX S70 introduces a new 3.5-in., wide-screen OLED Display with approx. 288k-dot resolution. In addition to the immediately recognizable benefits of vivid color reproduction and sharp contrast, OLED technology also improves power efficiency and allows for a thinner camera design. New capacitive touch screen technology ensures sure and immediate response to finger action on the display's glass surface. Other features include anti-reflection coating and brightness adjustment.
Five advanced image stabilizing features1 for sharper results
Nikon's Optical lens shift and Electronic VR image stabilization systems combine to help produce blur-free images. High ISO 64002 capability allows faster shutter speeds when shooting in low light or capturing fast-moving subjects. Motion Detection automatically controls shutter speed and the ISO setting to compensate for subject movement and camera shake. And, Nikon's original BSS (Best Shot Selector) function automatically shoots a series of sequential frames and saves the one with the sharpest focus.

Intelligent automated shooting modes that promote carefree shooting
Nikon's Easy Auto Mode makes it faster and easier to capture the moment by eliminating the need to manually select a scene mode to match the intended shot. This intelligent function determines the subject, analyzes the surrounding settings, and then automatically selects the appropriate scene mode for optimal results. Subject Tracking enhances the shooting experience by following the subject's movement to ensure clear focus and quick response when that special shutter opportunity presents itself. Subject Tracking even functions if the subject moves out of the frame for a second or two.
Nikon's Smart Portrait System with Skin Softening
Face-priority AF helps produce more satisfying portraits by adjusting focus and exposure for as many as 12 faces in the framed shot. Skin Softening function detects and analyzes a framed subject's skin, and then adjusts smoothness to produce enhanced results. Smile Timer automatically releases the shutter when the subject smiles, while Blink Warning presents an alert when it suspects that someone in the shot has blinked. In-Camera Red-Eye Fix automatically corrects any perceived red-eye effect before saving the image to memory.
Quick Retouch
Quick Retouch automatically adjusts the contrast and saturation of selected photos to create an enhanced copy with the right finishing touch.
Nikon COOLPIX S70 Other Features
Selection of three different stylish HOME screen displays
Macro shooting from as close as 3 cm (1.2 in.)
16 handy scene modes for optimized shooting in various settings
D-Lighting
Active Zoom
Versatile file sorting functions
Four movie modes with sound
Time zone function for easy setting of multiple locations
Approx. 20 MB of internal memory
Hi-Speed USB connectivity with USB charging via Charging AC Adapter EH-68P/EH-68-P (AR) or PC
Price and Availability
The COOLPIX S70 will be available in September 2009 for $399.95 MSRP in a choice of colors and textures including Red & Red, Champagne & Beige, Black & Black, or Champagne & Light Brown.
*ISO 3200 and 6400 are available only for image sizes of 3M (2048 x 1536) or smaller.
1 The camera selects and uses only the features required to optimize each image.
2 ISO 3200 and 6400 are available only for image sizes of 3M (2048 x 1536) or smaller.
Note: Specifications, design, product name, standard accessories, and release schedule may differ by country or area.