The new 90/90 HardBody case broadens the SLAPPA DVD storage line by introducing the largest capacity DVD storage case of its kind to date. Targeted to those with major home DVD libraries, the development of the 90/90 HardBody case was in direct response to customer feedback. The 90/90 HardBody shares the superior qualities of the other products in the SLAPPA HardBody line, including:
Molded Duro-Shock case that is crafted from molded X-EVA, a durable yet flexible body that is impact, heat and water resistant material.
Heavy duty brass handle buckles
2 industrial strength zipper pulls per case
Patented d2 pockets, a double pocket system, with a soft rear pocket for disc storage, and xtra w-i-d-e DVD cover pockets
The 90/90 HardBody case is an addition to an already impressive range, which has attracted attention from well-established audio publications and customers, due to its rugged construction and stylish design. The SLAPPA products combine functionality and protection while maintaining an element of fashion and style consciousness. Features that were formerly non-existent in the digital media storage market.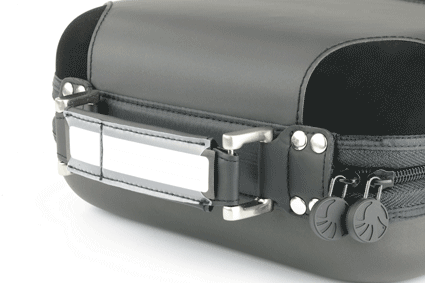 "SLAPPA customers have been asking for a larger DVD case and we are excited to fulfill their requests with a stylish, yet affordable case", said Kylin Clevenger, Communications Manager. "The 90/90 DVD case is the perfect solution for serious movie buffs who would like to ditch the traditional, teetering storage towers for a sleeker solution that is loaded with SLAPPA's trademark features."
The SLAPPA 90/90 DVD case is now available to pre-order at the www.SLAPPA.com website. Product will ship on February 23, 2005. MSRP $49.99.
About Total Impact Industrial
Total Impact Industrial Ltd. is a manufacturer and distributor of digital storage cases and accessories for digital products that are sold under the "SLAPPA" brand name. SLAPPA products have been recognized as "ground breaking" and "the best available", and can be found at retail outlets around the globe.
Total Impacts innovative team continues to produce quality style savvy designs for digital gear, such as CD/DVD storage cases.