CeBIT 2005, the largest ICT trade show in the world, will start on March 10-16. At the show, JAZZ Hipster will give you a surprise by displaying the newest products with cutting edge technologies, such as 2.4GHz Wireless, USB speaker, net speaker, DAB and so on. Please visit Jazz at Hall 23/A43, you will be amazed at Jazz's innovation and great development on speakers with lots of surprising extra values, which are described as the following.
1.Wi-Fi Mini Combo
Briefly speaking, Wi-Fi Mini Combo puts mini combo and wired or wireless Net (Internet and LAN) together as the broadband micro system. With it, you can play digital music files from your PC wherever you are in the house, and even listen to Internet Radio without your computer.
Wi-Fi Mini Combo is composed of a wireless networked audio player, an audio amplifier and a RF remote control. It stands for the revolutionary integration of wireless transport technology and speaker production. Therefore, it supports 802.11b WLAN and Ethernet so that users can listen to Internet Radio easily at home without any computer; moreover, you are able to store your favorite AM/FM stations in the system's memory.
On the other hand, Wi-Fi Mini Combo can be a multimedia server by being connected with networked PC; the information of music in PC can be read on its LCD display by using the smart touch screen and the two-way RF remote control in which the remote distance can reach 20 meters.
Besides, with built-in MP3/WMA decoders as well as USB host and SD/MMC slots, Wi-Fi Mini Combo can read MP3/WMA format from portable storage devices such as Flash Disk, USB HDD or flash memory card, etc. Moreover, it also can be used as an amplifier by connecting it with other entertainment equipments such as CD or DVD player.
2.Portable USB OTG Player for MP3
Have you ever imagined listening to music from portable MP3 player without wearing earphones? Now you even can enjoy MP3 with your friends. This latest fashionable product is a portable FM radio, adopting USB OTG (On-The-Go) standard designed for any kind of MP3 players. Therefore, you are able to enjoy music freely.
The USB OTG player supports USB based storage such as flash memory and HDD, offering two audio source inputs including USB port (Digital Input) and 3.5mm stereo line in (Analog Input) for more convenience; with bit rate from 48Kbps ~ 320Kbps, it performs high sound quality with low distortion. Smartly, it can search and play MP3 / WMA files in USB devices automatically. Moreover, it will attract teenagers with its cool style and portable model, taking music wherever you are and sharing music with your friends.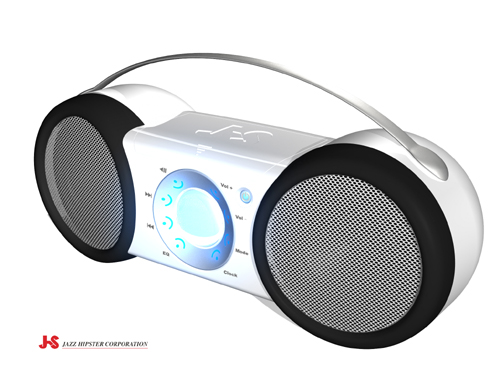 3.DAB Receiver
DAB Receiver is the worldwide tendency in the future, and now Europe is the most developed market of DAB which upgrades traditional Radio. By using the digital technology, it decreases the distortion caused by the unstable process of analog transportation, having the excellent sound effect just like CD player.
In addition, it offers DLS (Dynamic Lavel Setment) function so that the program information and immediate message such as traffic, weather, or stocks can be seen on the built-in LCD screen. It is especially designed to make your memory relive with retro style in real cherry, walnut or other optional wood veneers.
4.AM/FM Radio
With 2 3/4″ 5W full range driver and built-in AM/FM antenna, the table radio utilizes high sensitive tuner technology, performing high quality sound and meeting audiophile's needs. In fact, it is not only a table radio; with its auxiliary input, it can also connect with CD or MP3 players.
Although modern shape is a trend in the market, it features classical retro type with a wooden cabinet made of MDF in real cherry, walnut or other optional wood veneers. Briefly, traditional look covers the latest technology; high quality and high taste is all in this fabulous radio.