AV Receivers Upgraded with Exclusive Modular Design Construction Deliver Multiple Performance Advantage
NAD Electronics, the highly regarded manufacturer of high-performance audio and audio/video components, showcases dramatically upgraded HD versions of the T 785, T 775 and T 765 AV Receivers featuring NAD's exclusive high-value, High-Definition Modular Design Construction (MDC) at CEDIA Expo 2009.
The receivers have been significantly upgraded by the MDC architecture, which places all input circuitry on easily removable plug-in cards designed to provide enhanced performance, features, flexibility, upgradeability and simplified service. Its capability for easy upgrades also prevents consumers' investments from near-term obsolescence.
The MDC modules add valuable capabilities and connectivity. The initial plug-in modules (AM 100, AM 200, VM 100 and VM 200) cover digital audio and HDMI functions, component and analog video functions, and two-channel and multi-channel analog audio functions.
The T 785 AV Receiver comes equipped with the AM 200 and VM 200 Modules. As a result, new features include dual 32- bit Aureus™ 7.1 high-speed digital signal processors (DSPs) by Texas Instruments, Dynamic EQ and Dynamic Volume by Audyssey; decoding for several advanced audio formats, including Dolby True HD, Dolby Digital Plus and DTS-HD Master Audio; and Sigma Designs' VXP broadcast studio quality image processor. The T 785 HD also features Audyssey MultEQ XT room correction technologies.
To complete the listening experience, NAD includes Audyssey Dynamic EQ and Dynamic Volume. Dynamic EQ preserves the full impact of movie soundtracks at all listening levels, while Dynamic Volume prevents large jumps in loudness when commercials come on and when TV channels or video sources are changed.
The T 785 supports all standard and high-definition forms up to 2048 x 2048 pixels; motion adaptive de-interlacing with edge interpolation, which eliminates the jagged edge effects common in lesser image/scaling processors; film mode detection with output cadence generation, which gives video the smoothness of film; and programmable scaling with aspect ratio conversion, which perfectly matches video sources with a video display. Also on board are advanced noise reduction and detail enhancement, and frame conversion to and from any refresh rate in NTSC and PAL.
The T 775 AV Receiver includes the new AM 200 and VM 100 MDC Modules. Like The T 785 HD, the T 775 HD boasts dual 32-bit Aureus 7.1 high-speed DSPs by Texas Instruments, Audyssey's MultEQ XT, Dynamic EQ and Dynamic Volume; decoding for Dolby True HD, Dolby Digital Plus and DTS-HD Master Audio.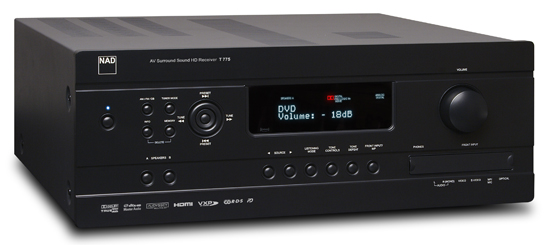 The T 775 HD employs the latest version HDMI 1.3 Repeater from Analog Devices. All input resolutions up to 1080p are fully supported at the output as well as cross conversion of legacy analog formats. All existing analog inputs are also available for up-conversion to HDMI output. Deep Color and xvYCC Expanded Color Space are supported to fully realize the highest possible video resolutions, now and for the foreseeable future. The NAD T 775's HDMI repeater also generates an on-screen display (OSD), and de-interlaces standard-definition legacy formats.
The T 765 AV Receiver includes the AM 100 and VM 100 Modules, bringing with it new HD features that include HDMI 1.3 repeaters for three digital sources, an on-screen display via HDMI, eight-channel pulse code modulated (PCM) audio (decoded or LPCM), two-channel PCM audio (encoded), and decoding for Dolby True HD, Dolby Digital Plus and DTS-HD Master Audio High Resolution Audio.


NAD T 785 AV Receiver – $3,999
NAD T 775 AV Receiver – $2,999
NAD T 765 AV Receiver – $2,499