Always-On MySpace Mobile Platform Enables Real-Time Updates and a Custom User Interface for the T-Mobile Sidekick
T-Mobile USA, Inc., Danger, Inc., and MySpace, the country's most trafficked Web site, today announced a highly integrated MySpace Mobile experience for the T-Mobile Sidekick. The announcement marks the first partnership between MySpace with T-Mobile and Danger.
"Sidekick users are often the hub of their circle of friends, and MySpace is the No. 1 Web site our users visit on their device," said Jeff Hopper, vice president of marketing at T-Mobile USA. "We've worked closely with MySpace and Danger to create a powerful MySpace Mobile experience that is uniquely tailored for the T-Mobile Sidekick. We think MySpace and Sidekick users are going to love having complete control over their MySpace universe right from the palm of their hand."
The MySpace Mobile software is tightly integrated with the T-Mobile Sidekick hardware, user interface, and all the applications on the device. The new MySpace Mobile for the T-Mobile Sidekick is designed to optimize the delivery of data to each user and preserve the features that MySpace users love on the PC. All aspects of the MySpace Mobile experience are tailored so users can simply navigate on the T-Mobile Sidekick screen and enjoy fast access to T-Mobile's robust wireless network.
"Innovating on our mobile platform is one of the most important initiatives for us," said Amit Kapur, vice president of business development for MySpace. "Given the high degree of MySpace and Sidekick usage overlap, we know our users will be thrilled to have this optimized experience."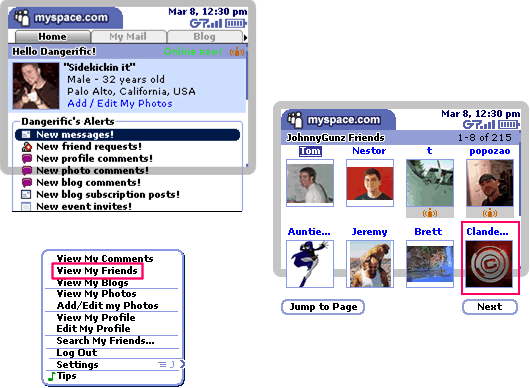 MySpace Mobile for the T-Mobile Sidekick features include:
Customized User Interface (UI)
The new service has pertinent information including new messages, friend requests and comments located in one easy-to-navigate home screen. To use other aspects of the service, users simply navigate through the four main sections of the application: Home, MyMail, Blog, and Search. The Sidekick's directional pad allows users to jump easily from each activity without waiting for a page to load.
Real-time Updates
MySpace Mobile users can stay signed in to MySpace even when they are on the go with their T-Mobile Sidekick. Real-time features include:
Profile editing, which allows users to edit their MySpace profile directly from the MySpace application, quickly and easily, wherever they are. Profile updates are immediately reflected on the MySpace Web site.
Optimized photo management, which empowers users to — with the click of a button — upload photos with captions from their T-Mobile Sidekick photo galleries, directly to MySpace.
Full-featured MySpace messaging, including push content and notifications powered by the Danger service. The service automatically pushes content, such as new friend requests or new messages, to the end user, meaning that users are notified of new MySpace activity even when they are using other T-Mobile Sidekick applications. This changes the interaction paradigm from request/ response (as it is via the browser today) to real-time, push messaging.
The application will provide "Online Now" status for a user's friends who are online, further advancing the "always-on" model.
Users can read, reply to or post comments to the profiles and photos of friends, as well as read and reply to comments on their own profiles.
Iconic Sidekick design
Customers consider the T-Mobile Sidekick a social lifeline and a messaging powerhouse thanks to intuitive features such as a large color screen, full QWERTY keyboard, and a host of communications capabilities including instant messaging and Web browsing.
The MySpace Mobile service is made possible on the T-Mobile Sidekick through two components. The first component is the client software, being made available for download in a staged rollout to the T-Mobile Sidekick user base throughout the next several weeks. The second component is the service that powers the application. Danger has created a private interconnection to MySpace, whereby each user can access all of his or her account data and interact with friends in real time.
"The first phase of Danger's product evolution focused on providing a rich mobile messaging experience, as part of the overall Internet offering," said Henry R. (Hank) Nothhaft, CEO and Chairman of Danger, Inc. "The new MySpace Mobile for Sidekick showcases the next stage of our evolution, tapping directly into compelling Web-based content and real-time information services and delivering them in an uncompromised fashion to mobile consumers."
This week, T-Mobile will begin a multi-week rollout of the new application to T-Mobile Sidekick users. T-Mobile customers can access and subscribe to the service through the Download Catalog. The new service will be available to all Sidekick iD and Sidekick 3 users by the end of October. For more information about the T-Mobile Sidekick, please visit http://www.sidekick.com.
About T-Mobile USA, Inc.
Based in Bellevue, Wash., T-Mobile USA, Inc., is a member of the T-Mobile International group, one of the world's leading companies in mobile communications, and the mobile telecommunications subsidiary of Deutsche Telekom AG (NYSE: DT). By the end of the second quarter of 2007, approximately 112 million mobile customers were served by the mobile segment of the Deutsche Telekom group — 27 million by T-Mobile USA — all via a common technology platform based on GSM, the world's most widely used digital wireless standard. T-Mobile's innovative wireless products and services help empower people to connect effortlessly to those who matter most. Multiple independent research studies continue to rank T-Mobile highest, in numerous regions throughout the U.S., in wireless call quality and wireless customer care. For more information, please visit http://www.t-mobile.com. T-Mobile is a federally registered trademark of Deutsche Telekom AG. Sidekick is a registered trademark of T-Mobile USA, Inc.
About MySpace
MySpace, a unit of Fox Interactive Media Inc., is the premier lifestyle portal for connecting with friends, discovering popular culture, and making a positive impact on the world. By integrating web profiles, blogs, instant messaging, e-mail, music streaming, music videos, photo galleries, classified listings, events, groups, college communities, and member forums, MySpace has created a connected community. As the first ranked web domain in terms of page views(a), MySpace is the most widely-used and highly regarded site of its kind and is committed to providing the highest quality member experience. MySpace will continue to innovate with new features that allow its members to express their creativity and share their lives, both online and off. MySpace's international network includes localized community sites in the United States, France, Germany, Australia, Ireland, Spain, Italy, Mexico, Switzerland, Austria, Canada, Netherlands, New Zealand, Denmark, Japan, Sweden, Latin America and the United Kingdom. Fox Interactive Media is a division of News Corp. (NYSE:NWS)(NYSE:NWS.A); (ASX:NWS)(ASX:NWSLV).
(a) Among the top 2000 domains comScore Media Metrix, August 2007. For more information on comScore Networks, please go to http://www.comscore.com.
About Danger, Inc.
Danger is a software-as-a-service company that enables wireless operators to offer a differentiated service offering to the consumer market. The Danger mobile Internet platform is a Java-compatible, client/server software infrastructure and application suite that delivers an easy-to-use, personalized experience. Founded in January 2000, Danger is a privately held company backed by leading venture capital firms and corporate investors. Danger is based in Palo Alto, California. Additional information about the company is available at http://www.danger.com.
Danger is a registered trademark of Danger, Inc. in the United States and internationally. All other marks are the property of their respective owners.