MoviePeg is a family of useful, elegant and portable products that hold your iPhone and iPad so you don't have to. Vertically, horizontally, at home, on a plane, on your knee, on a train. MoviePeg is the no-hand stand for movies and more.
MoviePeg for iPad
Launched in July 2010, MoviePeg for iPad was brought to market following the successful launch of MoviePeg for iPhone earlier in the year. Its simple crafted design allows people to really make the most of their iPad. No more leaning it against books or bags or having to use a clunky, ugly device that you can't move around with you. Coming in two pieces, which neatly slot together, MoviePeg for iPad props up your iPad when ever you need it to.
Great for watching movies and so much more: in the kitchen following a cooking app, watching sports, reading 'books', in the board room and keeping younger members of the family entertained and lessening the chance of sticky fingers all over your screen.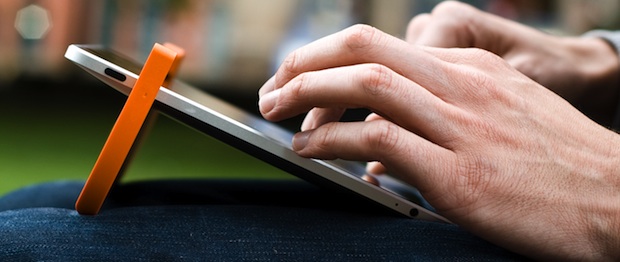 Perfect for using at home, work or on the move MoviePeg for iPad comes in two colours 'Pitch Black' and limited edition 'Clockwork Orange'. A limited run of 1000, each comes with a certificate of authenticity. You can read about why orange is special to us and was the choice for our first limited edition colour on the MoviePeg blog.
MoviePeg for iPad is available for $19.99 / £12.99 (plus shipping) via the MoviePeg site. They ship globally.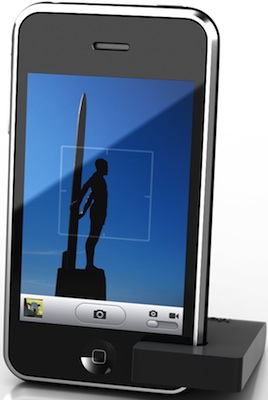 MoviePeg for iPhone 3G/3GS
The first product in the family, MoviePeg for iPhone was launched in March 2010. Created because we felt there was nothing out there that made watching stuff on your iPhone as pleasurable as it should be, MoviePeg provides a sleek, useful and pocket or purse portable stand for you to prop up your phone. Used in a variety of ways from catching up on TV shows, using as a camera tripod and even as a night stand for your alarm clock app it provides a way to make your iPhone even more useful.
MoviePeg for iPhone comes in six movie inspired colours – Black Rain, Yellow Submarine, Soylent Green, Blue Velvet, Pretty in Pink and Red Dawn.
MoviePeg for iPhone is available for $7.99 / £4.99 (plus shipping) via the MoviePeg site. They ship globally. A version for iPhone 4 will be available from August 2010.
All products in the MoviePeg family are made from recyclable materials that are designed manufactured in the UK.
MoviePeg for iPhone Uses
MoviePeg for iPad Uses

Watching movies or TV
Watching sports – live streaming and clips
Recipes / cooking tutorials
Kids entertainment
Viewing video based 'how-to' apps
Bedside alarm clock
Internet Radio
Camera tripod

Watching movies
Keynote presentations
Writing documents
A second display at work
Watching TV
A Virtual aquarium
Kids entertainment
Music jukebox
Home entertainment control
Real-time sports statistics display
Photo slideshows
Video editing
About magneticNorth
MoviePeg is made by digital design company magneticNorth (mN).
Working out of the UK, we create commissioned client work for some of the world's most interesting companies and brands. In addition, mN makes and sells an expanding range of products inspired by our observations of the world.