MOTOROKR EM30, EM28 and EM25 give mobile music fans new styles for their songs
Motorola, Inc. today expands its ROKR portfolio with the introduction of three new music-optimized devices that provide a range of styles at attractive prices for mobile music fans. The lineup includes MOTOROKR EM30, a candybar phone using Motorola's ModeShift technology, ROKR EM28, a clamshell device with sonic features and touch-sensitive keys, and ROKR EM25, a slider with FM radio sharing capabilities.
"Following the path of our award-winning ROKR E8, the newest additions to our ROKR family make listening to and discovering new music accessible and affordable for everyone," said Steve Lalla, corporate vice president, Mass Market Products, Motorola Mobile Devices. "From uncovering new music with friends through our FMShare feature to enjoying surround-sound quality audio, these new ROKR phones deliver the music you want whenever, wherever and however you want to hear it."
ROKR EM30: 50% Talk, 50% Music, 100% You
One moment ROKR EM30 is a mobile phone; the next, it transforms into your favorite music player. It uses Motorola's innovative ModeShift technology to illuminate the keyboard — red keys illuminate in music mode and a brilliant blue keypad appears in phone mode — taking users from talk to text1 to complete music immersion with a touch of a button. With colorful cues that let users know exactly which mode they are in, the ROKR EM30 connects the sounds that matter most: family, friends and favorite artists.
In addition to the basics in talking and texting, ROKR EM30 is loaded with other great features for music lovers too, including high-fidelity audio and seconds-fast MP3 downloads for listening to their favorite tunes. Consumers will know the artist and song playing on the FM radio with Radio Data System (RDS) technology. The 3.5mm stereo headset jack provides consumers the flexibility to use the headset of their choice with ROKR EM30. Compatibility with Windows Media Player 11 provides the freedom to download music from more than 200 online music stores worldwide.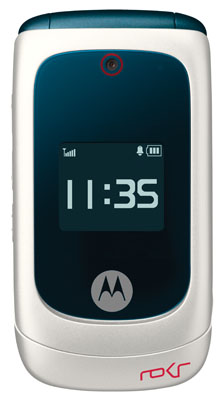 ROKR EM28: Sonic Performance
ROKR EM28 offers easy access to a genuine music-player experience in a familiar clamshell design and allows users to control their music using touch-sensitive keys that appear only when they're needed. The front of the phone shows the name of the artist and song without even opening the flip.
ROKR EM28 has sonic features that enhance the music's performance. A 3D sound effect gives music a surround-sound quality and an audio equalizer provides 11 pre-set music genres, including rock, reggae and pop for optimal listening. Consumers also can boost the bass up to nine decibels.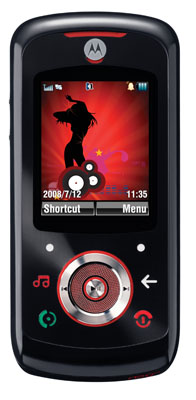 ROKR EM25: Get What You Need
ROKR EM25 offers a genuine music player experience including immediate access to a stored music library and built-in FM radio, in a sleek, quality handset. The phone has a dedicated music key so consumers can simply access stored music and familiar music controls to play, pause, forward and rewind songs. Consumers can use FMShare to share a favorite station with friends by sending it in a text message and SONGID technology to identify a song while out and about.
While the new ROKR devices are offered in different designs to suit a range of consumers' style preferences, each supports GSM technology and is equipped with a host of features for an enjoyable mobile music experience:
Supports multiple digital music formats including MP3 so you can sync your music easily with devices
FM radio with RDS provides the name of the artist and song playing so you can discover new artists and songs
Industry-standard connectors, including a universal 3.5mm jack, and stereo Bluetooth wireless technology lets consumers connect to their favorite wired or compatible wireless speakers and headsets, including the lightweight Motorola S9-HD headset and Motorola's new ROKR portable speakers.
Already Rockin'
The award-winning ROKR E8, which takes users from talk to music in one touch, is available globally. And for music enjoyment in stereo sound virtually anywhere, the ROKR EQ7, EQ5 and EQ3 portable speakers are available globally. The ROKR EQ7 Wireless Hi-Fi Stereo Speaker System uses four powerful speakers to deliver full, rich sound for music and calls; the ROKR EQ5 Ultra-Portable Wireless Speaker fits in a pocket and delivers amazing sound quality for music and calls; and the lightweight ROKR EQ3 Compact Folding Speaker is the perfect portable wired sound companion for mobile music devices.
Availability
ROKR EM30 is expected to launch first in Taiwan then in other markets throughout the quarter, while ROKR EM28 and ROKR EM25 will be available later this quarter around the globe.