Sprint has released the world's first Android-powered smartphone with Nextel Direct Connect® for $149.99 (with two-year service agreement and after a $50 mail-in rebate) through Sprint's online, telesales, and direct sales channels. All remaining Sprint sales channels will offer the Motorola i1 on Sunday, Aug. 8th. Boost Mobile also offers the Motorola i1 for $399 without a contract.
With solid body construction that meets military specifications for protection against dust, shock, vibration and blowing rain1, Motorola i1 is designed for those who work and play hard. It offers the Android 1.5 operating system, and automatically syncs and integrates office and personal information such as emails, calendar appointments and contacts.
Motorola i1 enhances the Nextel Direct Connect experience with the ability to view who is calling regardless of what application you are in, whether you are managing your emails, checking your calendar, composing messages or viewing media.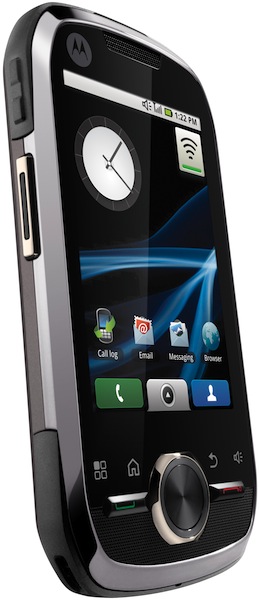 Motorola i1 also offers a variety of robust business and entertainment applications through the Android Market, and when combined with the built-in Wi-Fi capabilities, it provides a great view of what's happening both personally and professionally. Applications like Scan2PDF Mobile 2.0, Unit Converter – ConvertPad and RealCalc Scientific Calculator can help get work done, while staying connected to friends through Facebook or Tweeting using an easily customizable Twitter app like Touiteur.
In addition, Sprint partner applications available for businesses on the Motorola i1 include:
Xora mobile workforce management solutions provide businesses with real-time visibility into field operations, and helps automate payroll and job workflow processes. The Android version of Xora Time Track includes new features like photo barcode scanning and signature capture, eliminating the need to purchase additional hardware to support such capabilities.
TeleNavTrack uses the latest technologies to make mobile workforce and asset management reliable and affordable for businesses of all sizes. It lets businesses use wireless barcode scanning to track inventory and assets, manage deliveries, better predict arrival times, change schedules on-the-fly and deploy workers. It can also reduce paperwork by allowing the mobile workforce to complete invoices, orders and timesheets on the device.
Sprint Mobile Locator is a Web-based solution that allows businesses to easily track and locate workers, and view a mapping display on a PC in near real-time using a wireless phone's built-in GPS capabilities.
Key features include:
Popular business tools such as Microsoft Document Viewer and corporate sync ensure Word or PowerPoint files can be accessed on the go
Message entry is a breeze with both Android standard virtual keyboard and Swype virtual keyboards being offered
A 5 megapixel camera with flash, geo-tagging and panoramic capabilities provides crisp photos and clearly displays them on the vibrant 3.1-inch HVGA screen, and video can also be recorded and stored on a provided microSD for sharing or future viewing straight from the device
The Android browser allows you to see web pages and Flash 8-enabled sites in full view using Wi-Fi, and the latest Opera Mini 5 browser enables quick browsing over the Nextel National Network and Wi-Fi
"Motorola i1 is the only Android device to offer Nextel Direct Connect as well as the latest smartphone features and the ability to withstand some of the harshest environments. This phone brings a new level of smartphone to our Nextel customers making it one of the most efficient devices to get work done, and our customers who rely on Direct Connect will appreciate this feature-packed phone that doesn't miss on must-have features like Wi-Fi and a 5 megapixel camera."
— Fared Adib, vice president – Product Development, Sprint
About Sprint Nextel
Sprint Nextel offers a comprehensive range of wireless and wireline communications services bringing the freedom of mobility to consumers, businesses and government users. Sprint Nextel served more than 48 million customers at the end of the first quarter of 2010 and is widely recognized for developing, engineering and deploying innovative technologies, and is the first and only wireless 4G service from a national carrier in the United States; offering industry-leading mobile data services, leading prepaid brands including Virgin Mobile USA, Boost Mobile, Common Cents Mobile and Assurance Wireless and instant national and international push-to-talk capabilities; and a global Tier 1 Internet backbone.
1 Meets MilitarySpec 810F for blowing rain, dust, shock vibration, temperature extremes, low pressure, salt fog, humidity and solar radiation.
Motorola i1 Reviews
From Critics Around the Web