Sprint introduced Motorola ADMIRAL, the first Android-powered smartphone with push-to-talk from the Sprint Nextel Direct Connect network. It features Android 2.3, Gingerbread, a 1.2GHz processor, 3.1-inch VGA touchscreen display and QWERTY keyboard. It will use the Sprint 3G (EVDO Rev. A) network for push-to-talk capabilities.
Motorola ADMIRAL is designed to meet Military Standard 810G for dust, shock, vibration, solar radiation, low pressure and high and low temperatures. Plus, with Corning Gorilla Glass, Motorola ADMIRAL's touchscreen display is scratch-resistant.
Built with business in mind, Motorola ADMIRAL supports Microsoft Exchange and other email systems. It is easy to push delivery of Microsoft Exchange email tailored to the needs of specific users, and with robust calendar capabilities, employees can access the corporate Global Address List to create, edit and share meetings.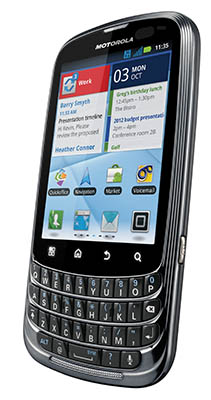 Motorola ADMIRAL also has the security features IT departments demand and protects sensitive company data with enhanced on-device security features that can be managed via the existing Microsoft Exchange ActiveSync Server, including password support, remote wipe and data encryption, as well as more than 30 other security policies. It offers standard PIN and password lock support, but goes above and beyond to include an alphanumeric requirement, complexity standards, expiration, history and recovery capabilities that are considered best-in-class features for Android-powered smartphones in the industry. Data encryption at rest on the device and microSD card also helps ensure that sensitive company data remains confidential.
Features
1.2GHz processor to unlock full multi-tasking possibilities, including instantaneous page downloads and seamless document editing
Quickoffice to view and edit Microsoft Word, Excel and PowerPoint, as well as Adobe PDF documents anywhere, anytime
5-megapixel camera with 720p HD video capture, flash and 4x zoom
Full suite of Google mobile services, including Google Maps, Google Talk, Gmail, Google Voice and YouTube
Android Market for access to more than 250,000 applications, widgets and games
Adobe Flash Player to enjoy games, interactive web apps and websites with technical or training videos
3G Mobile Hotspot capability supporting up to five Wi-Fi enabled devices simultaneously
Wi-Fi — 802.11 b/g/n
4GB internal memory with option to increase with up to 32GB micro SD card
Connected music player with access to all your favorite artists, including live, personalized recommendations for songs and videos, as well as news and event updates from the world of music
Sprint Direct Connect is a portfolio of push-to-talk services that allow individuals and groups to get more done — quickly and easily with just the push of a button.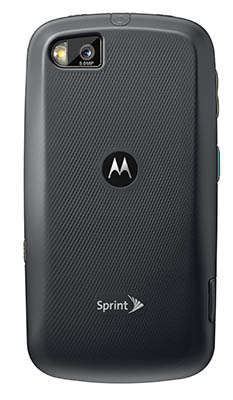 Sprint Direct Connect services
Sprint Direct Connect — Instant, one-to-one push-to-talk calling nationwide on the Sprint network, with any other Direct Connect subscriber. Direct Connect is the core push-to-talk feature and is designed for interoperability across Sprint and Nextel network platforms.
Guaranteed Talk Permit — The assurance that when you hear the push-to-talk "chirp" that your call was successfully transmitted.
Call Alert with Text — Send an audio alert with an optional text message to let another Direct Connect subscriber know you are trying to reach them and why.
Group Connect — Communicate with up to 20 other Sprint Direct Connect subscribers all at once — nationwide, at the push of one button.
TeamDC — Communicate with up to 200 other Sprint Direct Connect subscribers at the same time nationwide.
NextMail — Send a recorded message to any email worldwide or mobile handset via text message by using the Direct Connect button.
Availability Notification — Request the availability status of another push-to-talk member and, if they are busy, request a notification when they are free.
Price and Availability
The Motorola ADMIRAL will be available online on October 23, 2011 for $99.99 with a new line or eligible upgrade and two-year service agreement, after a $50 mail-in rebate. All Sprint sales channels will carry the phone on November 13th.