Deliver a Revelation in Better Sound Featuring Advanced Design, Build Materials and Technologies
Monster, renowned for its many advanced consumer electronics accessories and fast becoming one of the world's leading manufacturers of high-performance headphones, is proud to offer its new "Turbine Pro In-Ear Speakers," the first high-performance in-ear headphones engineered specifically to deliver the kind of reference-quality sound necessary to meet the exacting demands of today's music professionals and discriminating audiophile listeners.
Monster Turbine Pro: For Serious Audiophile and Audio Professionals
Head Monster Noel Lee personally designed the new Turbine Pro headphones, utilizing advanced design, engineering and technologies to offer a new level of portable audio performance geared toward serious audiophiles and audio professionals. The new headphones represent the consummation of Monster's approach to headphone design, which is to create advanced personal listening solutions that offer users the same sonic impact, power and performance as reference quality high-end loudspeakers — allowing them to hear all their favorite music the same way the artists and producers originally heard it in the studio.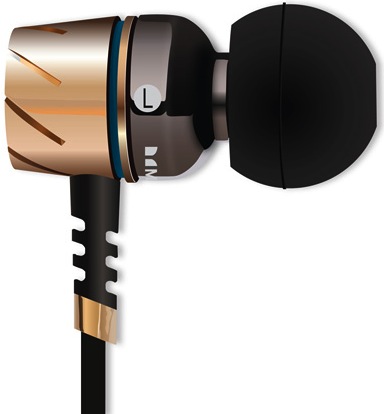 Along with Turbine Pro, Monster is also introducing its new high performance "SuperTip" eartips that offer superior noise isolation, while improving the overall performance by preventing sound leakage. Monster's research on eartips has shown that the tip significantly affects headphone performance and must be "tuned" to the headphone. SuperTip eartips are being offered with Turbine Pro headphones in two sizes, small and large. For those who love the traditional Monster eartips, three sizes are also included, along with traditional foam tips, and two sets of triple-layered eartips, so a perfect fit is virtually guaranteed.
What About the Performance?
With Turbine Pro, Monster set out to create a compact in-ear listening solution for audio professionals that would literally deliver the same sound that recording engineers, performers and producers hear in the studio on their big wide-range monitor speakers.
Noted Mr. Lee: "We're all critical audiophiles and music lovers at Monster, and our goal with Turbine Pro was to create a headphone capable of recreating every nuance of the professional in-studio music listening experience, whether the music is hip-hop, jazz, vocals, classical, or rock. We wanted to replace this high end listening experience with something portable that can be put into your pocket. Imagine the speed and delicacy of an electrostatic speaker, with the power that only dynamic speakers can deliver, coupled with a subwoofer that can reproduce a true 20Hz tone. That's what you get with Turbine Pro. Thanks to the use of new materials, proprietary driver design and other engineering improvements, Turbine Pro delivers this sound, providing the very best listening solution, regardless of price. It's a clean and tight sound that feels alive and lifelike, bringing a richness of audio detail to the music that you may have never even noticed before."
| | |
| --- | --- |
| | |
| Monster Turbine Pro – Gold | Monster Turbine Pro – Copper |
Monsterous Extras…
The new Monster Turbine Pro headphones will be available in November 2009 in two beautiful designs, gold with black chrome, and copper with bright chrome. To add to the Turbine Pro audiophile experience, the headphones come packaged with an attractive, super soft sewn pouch and a matching clip pouch that will also house the eartips or headphones. For those who want to carry several kinds of eartips, Monster has engineered soft silicon, "revolver" style holder that neatly fits into the clip pouch.
Notably, Turbine Pro headphones come with the industry's most unique guarantee. Knowing that professionals and travelers abuse their gear, the company offers a one-time Lifetime Replacement Guarantee — even if users break the headphones themselves. With its all-metal construction and robust strain relieve, Monster believes Turbine Pro is one of the most durable in-ear headphones ever made.
Monster Turbine Pro In-Ear Speakers will be available for a suggested retail price of $299.95 per pair or $329.95 with Monster's ControlTalk™ headphone cable, which can be used with iPhone™, iPod and most other smartphones for full music playback control as well as to take hands-free calls. The original Monster Turbine headphones are still available for $149.
About Monster
Monster is celebrating its 30th anniversary in 2009. The company was founded by Head Monster Noel Lee with a commitment to creating products under the Monster Cable brand to literally "make music sound better." Today, Monster has grown and diversified to become the world's leading manufacturer of connectivity solutions for high-performance audio, video, car audio, computer, console and computer gaming, as well as a leading innovator in the field of iPod and iPhone™ accessories and professional audio and sound reinforcement. Additionally, under its Monster Power brand, the company is the leading manufacturer of high-performance AC power line conditioning and protection products for audio/video systems.