Maverick Lifestyle Corporation, a leading developer of innovative Bluetooth products and accessories, today announced the Nica Bluetooth headset and charging docks, setting a new standard for aesthetic design and functional innovation in wireless technology.
Maverick has reinvented the Bluetooth headset, from the way it looks to the way it works. Nica, the only compact, open-air headset on the market, features a clean, circular design that provides a number of benefits. With no mic boom extending into the wearers face, the headset is more stable and secure, yet draws less attention to itself. The open-air acoustics allow the headset to be worn comfortably for longer periods because there is no ear insert pressing on the ear canal. The open-air approach also includes a larger speaker than those found on most other headsets, resulting in remarkably full and clear audio. And the design also makes Nica especially thin so it lies flat in a pocket.
"We've moved beyond the elongated boom-shape that defines all other headsets. At the same time, we've created an open-air design — there's no ear insert," says Maverick CEO Craig Janik. "The result is a less-geeky, iconic form, and also the most comfortable headset on the market."
"I'm so impressed by the Nica headset and docking stations for several reasons. I love the innovative design; the headset is so comfortable that I often forget that I'm wearing it. And the sound quality and volume are the best I have experienced in a bluetooth device," said Nica user J. Preib. "My favorite part about the Nica headset is that it attaches magnetically to its docking station and car adapter, which makes charging and removal quick and easy."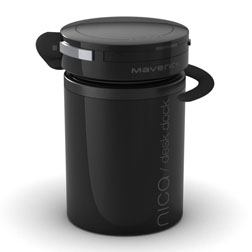 Nica's advanced technology is not limited to the headset itself. Maverick paid attention to how consumers really use Bluetooth headsets, and has designed Nica with innovative ways of charging.
Nica attaches magnetically to either the included Desk Dock or the optional Car Dock, for easy cable-less recharging and convenient access. Unlike most other headsets, Nica remains on and connected while charging–always ready to make and take calls. The Desk Dock charger plugs into any standard AC wall outlet.
The Car Dock charger plugs into any standard automobile DC/lighter socket, and includes NicaConnect™, a hands-free reconnection function that triggers the headset to reconnect to the user's phone when entering the car – just like built-in Bluetooth hands-free systems.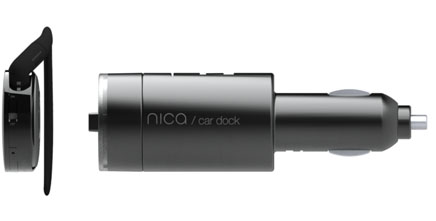 "The response from customers has been fantastic. Nica is the second headset for many of them and they are lauding Nica's comfort and sound quality," states Janik. "When you add in the magnetic attachment to the chargers and other innovative details, we believe it's the most usable Bluetooth headset ever offered."
Maverick began shipping Nica in March 2009 for a suggested retail price of $129, including the Desk Dock and AC adapter. The Car Dock is sold separately for $39. The products are available for purchase directly from Maverick's website. Maverick expects Nica to be available at select retail stores starting in summer 2009.
Maverick Lifestyle Corporation is a consumer technology company focusing on personal communications products for design-conscious consumers. Founded in 2005, Maverick's philosophy is inspired by the principals of Modernism, which encourage the re-examination of commonly held assumptions to make way for new – and better – ways of doing. Maverick will continue to introduce new personal communication products that deliver on this promise.