USB-powered drive provides maximum portability with top-load design and four color options
Lite-On, a global leader of optical storage solutions, announces the external slim DVD/CD writer, eTAU208. Created for optimum portability, the external eTAU208 is USB-powered, lightweight and features a unique top-load design. As an external drive, the eTAU208 is also a great power-saver, using less current than a typical internal drive.
The eTAU208 is a great travel companion for any notebook or netbook without a built-in optical drive. It is powered directly from the notebook through the enclosed USB cable, so there is no need for an AC adapter or nearby outlet. Weighing less than 0.7 lbs, the lightweight device fits easily in any notebook bag and is ideal for travelers, busy professionals and students.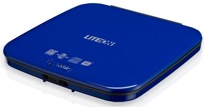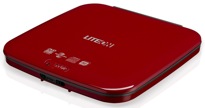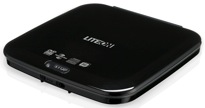 The eTAU208 is a compact, sleek, and round corner designed portable device. With the distinctive built-in USB cable holder, you can neatly store the USB cable and also be certain the cable is in place every time you use the drive. It is also integrated with a top-loading mechanism for convenient CD/DVD backup and playback.
This unique top-load design has no tray, which not only makes it lighter, but reduces the risk of mechanical and electronic malfunction as well. The mechanic lock on the top-loader makes it easy to retrieve or place a disc without the drive plugged in, and when on the go, it can be opened from any angle even with a little amount of space.
"It is increasingly more common to see a notebook without an optical drive included," said Christine Hsing, Marketing Manager at PLDS. "The eTAU208 gives true portability and performance for today's busy professionals. They can easily archive or playback movies, photos, and music on the move."
The eTAU208 includes the latest version of LightScribe labeling technology which allows users to label their discs without any marker or paper labels. Just burn data on the data-side of a LightScribe compatible disc, flip the disc over, reinsert it into the drive and burn a beautiful label based on personal artwork, text or photographs.
Writing speeds of the eTAU208 are 8X for DVD±R and DVD+RW, 6X for DVD±R DL and DVD-RW, 5X for DVD-RAM and 24X for CD-R(W). Reading speeds are 8X for DVD-ROM and 24X for CD-ROM.
The eTAU208 will be available at the end of August and in four color options – black, white, blue and red – at the suggested retail price of $64.99.
About PLDS
PLDS (Philips & Lite-On Digital Solutions) is a joint venture between Royal Philips Electronics and Lite-On IT Corporation that is responsible for the sales and marketing of Lite-On branded Optical Disc Drive (ODD) business. The combination of a strong R&D focus and access to enormous production capacity makes PLDS an industry leading company. PLDS is dedicated to excellence and devote best efforts to further expand innovative quality product offerings for the PC industry and strengthen its top global position in the ODD industry.