At CES 2009, Audio-Technica showcased their first-ever line of headphones created especially for women.
Audio-Technica's women's headphones are ideal for use while jogging, exercising, traveling, relaxing at home or anywhere you want to take your music. All the headphones come with a cord wrap and easily fit into a purse, bag or briefcase, making them perfect for women on the go. Their high sensitivity and full-range frequency response let you get the best sound from any music source including the iPod other portable music players and laptop computers.
Audio-Technica offers headphones for every style-conscious listener. The ATH-CK1W ($59.95) in-ear headphones are ultracompact and feather-light, incorporating newly developed, advanced-technology speaker drivers to deliver superb sound. The ATH-CK1W is available in a dazzling array of colors from subtle to bold including green, orange, pink, purple, white and yellow, all with matching decorative and durable metal carrying cases. The headphones come with three interchangeable eartips in XS, S and M sizes, which are specifically made for women to provide superior comfort. Like all Audio-Technica women's headphones, the ATH-CK1W comes with a handy cord wrap.
The ATH-ES3W on-ear headphones ($99.95) are available in a selection of vibrant metallic finishes including blue, green, pink and silver. Its sleek design sets it apart — as well as anyone who's wearing it. Its cushioned earpads and soft headband provide total comfort, and the ear cups fold flat for easy portability in its supplied travel bag. The ATH-ES3W has a premium-quality aluminum housing and headband, and its large-diameter 28 mm rare-earth-magnet speaker drivers provide clear, full-range sound.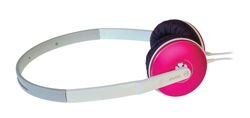 The ATH-ON3W ($69.95) combines a distinctive small, slim and ultralight on-ear design with fold-flat portability and unequaled comfort. It utilizes premium-quality drivers to deliver natural sound with articulate bass, a richly detailed midrange and open, extended high frequencies. The ATH-ON3W's color choices include dark gray, pink, teal blue and white.
The ATH-CK6W in-ear headphones ($99.95) are designed to fit any woman's style, and come in a variety of eye-catching colors including metallic silver, blue, green and pink. The ATH-CK6W comes with three sizes of eartips, and three interchangeable loop support pieces for a custom fit. The ATH-CK6W is so light, you'll hardly know you're wearing it — until you start listening to its smooth, high-fidelity sound.
Rounding out the Audio-Technica women's headphones lineup is the ATH-CK52W in-ear model ($69.95). It combines outstanding sound quality with total comfort and convenience, in a color choice of pink, black and white. It features soft earpieces that fit securely, and keep out environmental noise so listeners can enjoy their music with maximum clarity and impact wherever they go.
Crystal Griffith, Audio-Technica Consumer Marketing Manager, stated, "Audio-Technica is the first company to offer an entire product range of headphones that are designed specifically for women. Our in-ear and on-ear models for women let you listen in your own fashion. They combine attractive design with outstanding sound quality, portability and value, and come in a variety of appealing colors to match any style — or stand out in the crowd."