LifeProof introduced waterproof, dustproof, snowproof and shockproof cases for iPhone 4S and iPhone 4 phones. The rugged case includes a CrystalClear double anti-reflective (AR) coated camera-grade glass lens, plus a patent-pending Sound Enhancement System (SES) improves the bass and mid-frequency speaker response by utilizing the back of the case as a subwoofer for a richer, fuller sound.
Available in pink, white, purple or black, all LifeProof cases provide complete freedom to use the iPhone in any wet, dirty, cold or rough situation. With LifeProof, you can take HD videos anywhere — underwater, in snow, even in dirt, mud and at the beach. LifeProof also provides full MIL-SPEC shock and impact protection even if dropped onto concrete.
Features
Ultra-slim and adds only 1/16″ (1.5mm) to the depth of your iPhone and weighs less than an ounce (28g).
Unique combination of materials that will not stick to your pocket
Protects against every-day hazards — full IP-68 rating against water and dust, and designed to Military Specifications
Ability to swim and take underwater (2 meters/6.6ft depth). Optional adapter allows use of waterproof headphones underwater
Double AR-coated optical glass lenses provide unprecedented crystal-clear photo and video quality
High degree of shock and impact protection — tested to Military Specifications MIL-STD-810F-516.5 (2 meters/6.6ft drop on all surfaces and edges. 26 tests)
Fully sealed protection against minute dust particles
All phone features are operational while maintaining a high level of protection
Compatible with all iPhone 4 and 4S (International, Sprint, AT&T and Verizon).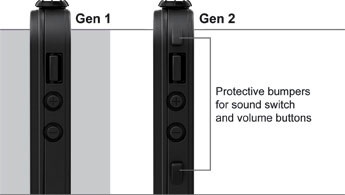 Lifeproof's first case was labeled Gen-1, which has been updated to Gen-2 with the addition of bumpers (as seen in photo above) to protect the ringer silence switch and volume buttons during a hard impact on the side.
Price and Availability
LifeProof iPhone cases are available now for $79.99 (Gen-2). BestBuy.com has them in white or black.