World's First 'NAS' Device With Built-in Blu-ray Drive
LG Electronics, the world's leading* supplier of optical storage devices, previewed its Network Attached Storage (NAS) device and its broad line of storage options at the 2009 International CES.
LG N4B1
Designed for the sophisticated tech consumer and the small office-home office (SoHo) user, LG's CES Innovations Award-winning NAS device combines a secure storage option for large amounts of data with the capability to read and write in high definition.
"Safe and secure storage of digital content is a top priority for techies and SoHo users alike," said Peter Reiner, senior vice president, marketing and strategy, LG Electronics North America. "LG's NAS device is the perfect complement to our award-winning optical disc drive line as it not only provides data security but also offers large storage capacity and gives users the flexibility to read and write Blu-ray."
Smart Data Management
The world's first Network Attached Storage device with a built-in Blu-ray drive (model N4B1) attaches to a network instead of PC to enable efficient and secure data storage. Its capacity can be expanded by a four-bay storage configuration to a maximum of 4TB. To facilitate easier archiving, the N4B1 automatically creates a content catalog when data is saved to the Blu-ray disc. Additionally, the management system automatically tracks what is downloaded, saving business owners and consumers' time and space by not duplicating files. Additional features include:
Compatibility with Windows, Linux and Mac operating systems allows users on different operating systems to share and store data
Compatibility with all current types of CD, DVD and BD media up to 50GB
Auto Disc Back-up: Updates data and manages disc lists
Virtual Disc Library: Allows a single disc to be shared among many users
Auto Sync: Automatically updates PC activity and backs up selected data while creating a catalogue on Blu-Ray media
RAID 5: Robust hot-swap mechanism & RAID migration supported to protect against data loss
Memory card reader
Ability to stream content to Blu-ray players
Gigabit Ethernet Connection
Three USB 2.0 connections
LG BE08
Compact Blu-ray Burner
The LG BE08 Blu-ray disc drive adds a high-definition component to help consumers transform the home office into a mini home theater. Its increased Blu-ray read and write speed of 8X is among the world's fastest: the BE08 can burn a full single layer BD disc (25GB) in only 13 minutes versus an average of 23 minutes at 4x for other devices. It also up-converts standard DVDs to near-HD levels. The unit's software also includes a new function that allows consumers to record high-definition content to a Blu-ray disc.
The compact and stylish storage option also features a Silent Drive to reduce noise during media playback. Additional product specifications include:
DVD±R 16x Read/Write compatible
CD-R 40x Read/Write compatible
Record up to 50GB of data, equivalent to 5 hours of high-definition video or 25 hours of standard definition video (on 50GB BD Double Layer recordable media)
USB 2.0 connectivity
Music Video Creation allows users to create video from digital photos
SATA interface for enhanced performance, smaller cables and easy integration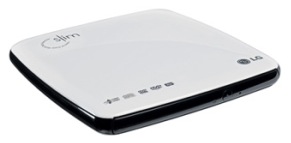 LG GP08
Portability and Style
LG's GP08 Slim Drive provides increased flexibility for consumers seeking a sleek, slim, portable drive. Product features and specifications include:
20x DVD burning speed for very fast DVD reproduction
SecurDisc™ provides data protection and content access controls in all optical formats
LightScribe™ technology enables direct-to-disc labels
USB-powered drive enabling universal connection
Reads standard-def DVDs as well as CDs and CD-Rs
PC and Macintosh compatible