Sprint and LG recently announced the fashionable LG Lotus Elite™ (model LX610), the successor to the popular LG Lotus™. The sleek and stylish messaging device offer users a more advanced handset with the additions of touchscreen technology and new exclusive features.
One Click is an award-winning interactive user interface design that lets users personalize the home screen on their LG Lotus Elite by selecting and organizing one-click access to features and content, such as text messaging, Google search, Sprint Navigation, email, favorite Web sites, music and social networking. With One Click, scrolling through the customized carousel-style menu on the home screen provides instant information related to each feature. For example, when a customer with text messaging on their home screen scrolls to that feature, he or she will see the number of new messages received. A single click takes the user directly to the feature selected.
Winner of the "Good Design of the Year Award" at the German IF awards, LG Lotus Elite makes a distinctive fashion statement with a unique square flip-phone shape, attractive tattoo pattern and full QWERTY keyboard. LG Lotus Elite has an external touchscreen enabling users to view emails, texts and pictures, as well as access your voicemail without opening the phone. Customers can view Sprint TV, listen to music and use Sprint Navigation from the external screen after starting the program using the main phone menu.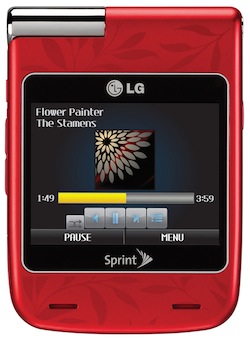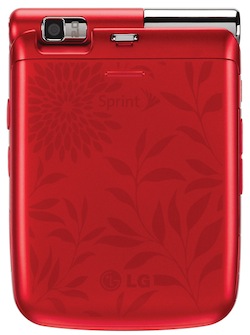 LG Lotus Elite features several enhancements, including dual 2.4-inch QVGA screens, expandable MicroSD™ supporting up to 32GB memory card and dedicated shortcut keys for social networking, email and text.
LG Lotus Elite includes all the popular features of LG Lotus including:
Sprint One Click menu, a highly customizable user interface that makes texting, Web access, email and other features easier to use
2 megapixel camera and camcorder
Full QWERTY keyboard
SMS text messaging
Google Search
The red LG Lotus Elite is available now for $99.99 with a new two-year service agreement and $50 mail-in rebate (excludes taxes and surcharges).
LG Lotus Elite will be available in black on Feb. 14.