10-inch Ultra-Thin Subwoofer Delivers Theater-Grade Performance in Compact 4.5-inch-Deep Enclosure
Leon Speakers introduced a new dimension in living space and dedicated home theater with the Aaros 10-inch ultra-thin subwoofer. The Aaros 10-inch subwoofer (A10-UT) packs theater-grade performance along with musical finesse in a sleek, compact enclosure with a depth of only 4.5 inches. Designed to meet the audio and design demands of Living Space Theaters™, this modern, sculptural subwoofer looks impressive in the foreground of any home and can be customized to complement any decor. The A10-UT is also convertible to a downward-firing position to fit easily under a couch or hide away in any cabinet, delivering extreme versatility and a high-impact low end to any space.
Featuring a highly specialized 10-inch aluminum cone driver, the A10-UT boasts 400 watts with minimal distortion. Housed in a fully sealed enclosure, reinforced with a solid aluminum baffle and back that is handcrafted and machined in Ann Arbor, the 45-pound A10-UT produces the bass response matched to the space for which it is intended. It can be further customized to match any color or finish to complement the look of any room. Paired with Leon's brand-new L3-1K 1,000-watt, class A/B subwoofer amplifier, the Aaros subwoofer naturally reproduces the tight musical low tones necessary for critical two-channel listening and effortlessly handles home theater low-frequency effects with impeccable clarity and precision.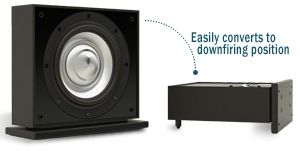 "This thin-form-factor subwoofer challenges all conventions in speaker design by pushing the boundaries of performance, versatility, and placement," said Noah Kaplan, co-founder and president of Leon Speakers. "As the latest addition to our custom-built loudspeakers for Living Space Theater, this highly refined sub integrates seamlessly into any room while controlling the impact of the most demanding movie tracks."
To complement the A10-UT, Leon's L3-1K subwoofer amplifier delivers the power, finesse, and flexibility that the subwoofer deserves. Its adjustable crossover, variable phase, and tunable EQ allow installers to tailor the sound of the sub to match any room.
Leon continues to deliver high-fidelity, immersive audio solutions for Living Space Theater, where theater systems don't just match a particular display, but integrate seamlessly into any room in which the audiovisual experience is enjoyed. The Aaros 10-inch subwoofer is perfectly tuned to complement Leon's Horizon and Profile Series speakers to create the perfect theater system for any room.
Custom-built in Ann Arbor, the A10-UT is sold with Leon's L3-1K 1,000-watt subwoofer amplifier at an MSRP of $2,695 for one subwoofer or $3,995 for dual subwoofers.
About the Leon Speakers Corporation
The Leon Speakers Corporation, established in 1995 in Ann Arbor, Mich., is a worldwide leader in high-performance, audiophile-grade on-wall loudspeakers. Leon Speakers pioneered the design, research and development, and refinement of high-fidelity on-wall loudspeakers. Today, this innovative company meticulously handcrafts a full range of elegant loudspeaker solutions, seeking to bring immersive home theater experiences into luxury living spaces.