Lenovo today introduced three new ThinkServers ranging in price from $829 to $1,399. The ThinkServer TD230, RD230, and RD240 mark Lenovo's entrance into the value dual processor server market. The trio offers unexpected features for the price, such as remote management, energy saving configurations and advanced data protection.
ThinkServer RD230 and RD240 – Maximum Performance at Minimum Cost
The RD230 and RD240 rack servers provide technologies that equip growing businesses to run mission critical applications and allow larger businesses to dedicate specific features to a server. Competitors typically offer these performance and manageability technologies as options to their models, adding several hundred dollars in incremental cost to the price.
The servers include these standard features:
Built in advanced RAID for advanced data protection on the RD230
Web-enabled remote management tools to enable managed service providers to remotely monitor and manage their clients' IT systems
Hot swappable hard drive storage to eliminate downtime and give IT managers flexibility in assigning data to specific locations
A DVD writer for a convenient way to install new applications
The servers also offer the latest Intel® Xeon 5500 and 5600 series processors, helping them run 60 percent faster than legacy servers. With up to eight hard drives, eight TB of storage and dual power supplies, the slightly larger RD240 rack caters to businesses that need to run high performance database, transaction and other line of business applications.
ThinkServer TD230 — Optimized for Flexibility & Performance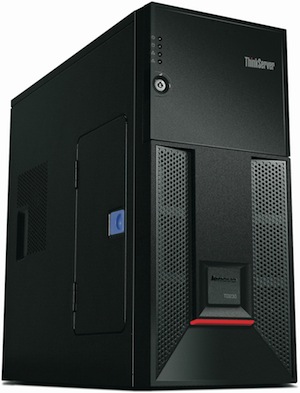 The TD230 tower server gives managed solution providers and businesses the flexibility and performance they need to outfit nearly any work environment. Customers can choose between direct connect or hot swap configurations to fit their needs, as well as among a variety of high performance and high capacity hard drives.
Because towers are usually located under a user's desk, the TD230 runs "whisper quiet" and even quieter than many desktops. Optimized for energy savings, it features a greater than 90 percent efficient power supply and is the only value two processor server to be designed with the EnergyStar® for Servers 1.0 specification. The TD230 also offers the latest Intel technology to balance powerful performance and energy savings.
Simplifying Service and Management
Lenovo's server solution provides hardware and software support. ThinkPlus Priority Support provides services such as next business day warranty service, 24×7 hardware and software phone support as well as priority call routing to advanced technicians. For customers who need on-site hardware installation and online training, Lenovo also offers the ThinkPlus Productivity service plan.
Level Platforms certified the new servers for monitoring and management by their Managed Workplace solution. Level Platforms also developed new policy modules for each of the new servers, which are available to managed service providers (MSPs) as part of the policy module library. This certification ensures that MSPs can use the built in ThinkServer management tools and that the servers can be integrated seamlessly into Level Platforms' solution.
"These new ThinkServers are changing the model in the value server market. Instead of offering customers expensive add-ons, we built in manageability and performance features, like remote management and hot swappable drives, that growing businesses need. And we did this while keeping prices extremely affordable."
— Tom Ribble, director, ThinkServer Product Marketing, Lenovo
"We welcome the opportunity to add such high performing and cost effective solutions to Managed Workplace's remote monitoring and management capabilities. These new ThinkServers demonstrate Lenovo's commitment to managed service providers, giving them the ability to integrate the servers into their managed services offerings on day one."
— Ryck Marciniak, director of business development, Level Platforms
Pricing and Availability
All of the servers will be available immediately through Lenovo business partners.