New Verizon Survey Shows 83 Percent of Consumers Continue to Rely on Landline Voice Service for Its Quality, Safety Features and Plan to Retain Their Home Phone Service Indefinitely
American consumers have a wide array of choices for personal communication services, but, when it comes to their home, an overwhelming majority — including those who have a cell phone — say they plan to keep and continue using their landline home phone indefinitely. Most often the service's proven reliability and safety were given as reasons in a new nationwide survey commissioned by Verizon.
The telephone survey, conducted by KRC Research last month, polled more than 800 consumers aged 18 and over who pay their landline phone bill. It found that:
Eighty-three percent of the respondents intend to continue using their landline home phone indefinitely — a strong vote of consumer confidence for landline voice service in a survey group that included a large number of participants who also have a cell phone (74 percent).
Ninety-four percent of the respondents cited reliability and 91 percent cited safety as the key factors for retaining landline service.
Seventy-six percent of landline phone owners use their landline phone every day.
"These survey results underscore the reasons why we have a large and loyal base of home phone customers," said Virginia Ruesterholz, Verizon Telecom president. "Of course, Verizon offers a tremendous cell phone service too, and these consumers see their wireline phone as a critically important phone in their homes.
"For decades, the landline home phone has set the standard for unmatched performance and consistent communications quality. The day-in, day-out dependability of Verizon's landline voice service gives customers a deep sense of comfort, so they maintain a strong commitment to their landline home phone," said Ruesterholz.
Verizon's landline network processes more than 1 billion calls a day, with 99.9 percent reliability.
Consumers Value Voice Quality, Reliability and Consistency of Service
Reflecting the significant amount of technological improvements and preventive maintenance that Verizon routinely performs on its landline network, 92 percent of respondents said they are satisfied with their landline phone service.
Ninety-eight percent of landline users consider their connection to be reliable on a typical day, and 91 percent rate their connection as reliable even on days when the weather is inclement. In 2007, Verizon invested $11 billion in its landline network, and has pumped $43.4 billion into its landline network over the past five years.
Not surprisingly, nearly 100 percent of those surveyed said voice quality — audio volume, voice clarity and tone — is important when making phone calls, and eight of 10 landline owners said voice quality is very important.
Survey respondents included users of many different cell phone services. Three-quarters (74 percent) said their landline home phone trumped their mobile phone in terms of voice quality, reliability and consistency of service.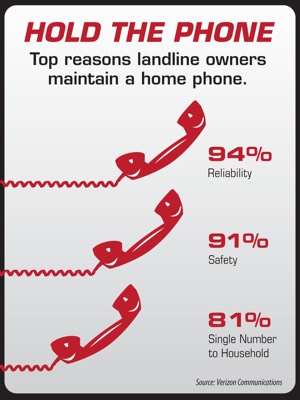 Landline Loyalty Key to Verizon Bundling Strategy
In order to realize the most value for their spending, nearly two-thirds of consumers — including people who live in urban areas, younger adults and those who earn more than $75,000 annually — say they would consider bundling their landline home phone with television, Internet services and wireless plans. In fact, those who have both a landline and cellular phone are more likely than those without a cellular phone to bundle their communication services, the survey found.
"Deepening further the loyalty of our existing base of landline phone customers is essential to our bundling strategy, which seeks to deliver an array of top-quality services at value-based prices," said Marilyn O'Connell, Verizon Telecom chief marketing officer. "These bundles are popular with consumers who believe that cable competitors can't offer the same level of reliability as we do with the traditional Verizon home phone service."
Verizon offers competitive pricing on bundles of broadband and entertainment services including its High Speed Internet service, FiOS Internet and FiOS TV, along with a convenient billing option for Verizon Wireless customers. By year-end 2007, bundled services continued to attract and retain Verizon customers, with more than half of all new customers choosing a bundle.
Dependability a key quality of traditional service
Nearly half of the landline phone owners surveyed said they would feel unsafe if their home did not have a landline connection, reflecting the importance of having a phone they know will be ready to dial at a moment's notice.
Typical reasons those surveyed gave for staying true to their landline home phone include: "My telephone line is my lifeline." "That's the one I use the most and it doesn't have to be recharged." "It's most ready in case of an emergency." "It gives me security that I can reach 911." "When the electricity goes out I can still use the landline phone." And, "I can depend on it 24 hours a day, 365 days a year."
The survey revealed that women, senior citizens, middle-income earners ($50,000 to $75,000 annually) and those living outside of metropolitan areas are more likely to continue using their landline phones indefinitely.
Eighty-eight percent of respondents in the survey said they owned cordless landline phones; 61 percent own a corded landline phone; and 49 percent own both types. Consumers who use only a traditional corded phone in their residence are more likely than those with only a cordless phone to want to keep their phone indefinitely, and they could not imagine living without their landline phone, according to the survey.
Eighty-seven percent of females, versus 80 percent of males, plan to continue using their landline phone for the foreseeable future, whereas 90 percent of persons older than 65 said they will keep their landline phone forever as opposed to 82 percent of those under the age of 65.