LaCie introduced the Little Big Disk Thunderbolt Series Hard Drives available in 1TB, 2TB or a 240GB SSD. It is the first portable solution to feature the shocking 10Gb/s speeds of Thunderbolt technology. It offers ultra-fast data transfers, complete system backup in minutes, and faster content editing than ever before.
The LaCie Little Big Disk Thunderbolt Series sets the new standard for the storage industry. Featuring a pair of 2.5″ drives in a Mac OS RAID configuration, the Little Big Disk delivers stunning read speeds more than 480MB/s in SSD and up to 190MB/s in HDD.
The more Little Big Disks you chain together, the more impressive the performance. Users can daisy chain several Little Big Disks to maximize the interface's capabilities and reach transfer rates around 800MB/s — truly rackmount storage speeds in a portable solution.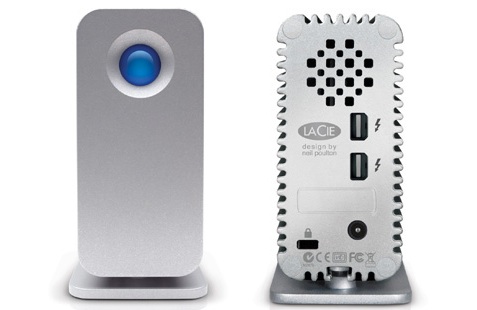 A game changer for content creators and professional users, the Little Big Disk is the ultimate portable solution for fast access to data or on-set editing. It supports multiple RAID levels (0,1 and JBOD) and daisy chaining for storage expansion or connecting other peripherals. Additionally, it features a heat sink casing and quiet fan for dual cooling.
Price and Availability
The LaCie Little Big Disk Thunderbolt Series HDD (1TB – $399.95, 2TB $499.95) models are available now through Apple retail stores worldwide and Apple.com. The 240GB SSD model will be shipping October 2011 for $899.99.
For full specifications and product information see www.lacie.com.
lacie big disk Reviews
From Critics Around the Web