LaCie announced the 5big Office and 5big Office+ five-bay network attached storage solutions for small offices. Both are powered by a 1.6GHz Intel 64-bit Atom processor and 2GB of RAM for maximum simultaneous data access and backups for all employees. Additionally, the 5big Office Series' efficient cooling system protects internal components, ensuring long-term reliability.
The 5big Office, powered by Windows Home Server 2011, is perfect for backing up as many as 10 PCs. The 5big Office+, powered by Windows Storage Server 2008 R2 Essentials, backs up as many as 25.
The single-drive version allows users to add additional drives, as needed, for up to 10TB of total capacity. It reduces the initial investment and assures a long-term solution. What's more, its PC backup data deduplication only backs up a single instance of redundant data. This optimizes storage space as well as increases backup speed.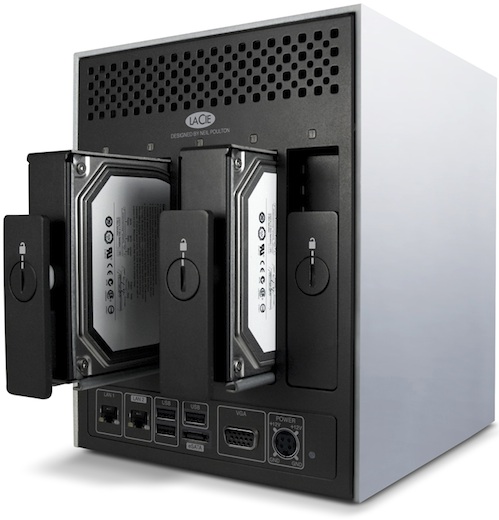 The 5big Office+ offers all the features of the 5big Office, but brings powerful tools — including DFS-R/N — for integration with off-site servers. IT managers can centralize and consolidate data, even when it's spread across multiple geographic locations. The 5big Office+ also features Windows domain/Active Directory support, a faster dual-core processor, dual Ethernet links, and can back up more PCs.
5big Office Series Features
Complete Data Protection: Automated backups of office computers make complete data protection easy.
Disaster Recovery: Restore a file or even a complete workstation operating system using a simple wizard. The 5big Office Series also supports secure RAID 1 and RAID 5 modes for automatic, hardware-level protection.
Off-site Protection: For an additional level of data protection, the user can also back up data to an offsite location with NAS-to-DAS backup, NAS-to-NAS backup or Wuala, LaCie's Secure Cloud Storage service.
Employee Collaboration: The system can serve files to any operating system — PC, Mac, or Linux — on the network.
Wuala Secure Cloud Storage: The product comes with a 100GB of trial Wuala Secure Cloud Storage that lets users store and back up files online and access them from anywhere.
Centralized Monitoring: Control RAID, users, or monitor backup status in the blink of an eye.
Price and Availability
LaCie 5big Office 2TB (single drive) → $599
LaCie 5big Office+ 2TB (single drive) → $749
LaCie 5big Office+ 10TB → $1499