Image Stabilization and Smart Capture Feature Produce Brilliant Pictures with the Push of a Button
Eastman Kodak Company NYSE: EK today announced the latest M-Series Digital Camera to join its EASYSHARE System portfolio. The KODAK EASYSHARE M1093 IS Digital Camera, a sleek but powerful digital camera for style-conscious consumers, is packed with innovative features, including Kodak's Smart Capture, which instantly adjusts the camera settings to help ensure brilliant pictures in virtually any environment — automatically.
"Underneath its sleek exterior, the KODAK EASYSHARE M1093 IS Digital Camera is a powerhouse built to capture beautiful pictures," said John Blake, general manager Digital Capture and Devices, Vice President, Eastman Kodak Company. "The Smart Capture feature available on our latest digital cameras, including the M1093 IS, lets consumers capture moments that would have otherwise been missed, thanks to its intuitive and automatic scene detection and setting control."
KODAK EASYSHARE M1093 IS Digital Camera
The KODAK EASYSHARE M1093 IS Digital Camera is the newest member of Kodak's line of affordable EASYSHARE M-Series Zoom Digital Cameras for the style-savvy consumer. A range of features lets consumers capture and share their memorable moments quickly and effortlessly:
Innovative Smart Capture feature identifies the scene and adjusts camera settings for a great picture in just about any environment — automatically.
Take stunning HD pictures and video and view them on an HDTV with the optional KODAK EASYSHARE HDTV Dock.
Reduce blur caused by camera shake, subject movement or fast-action situations with image stabilization and blur reduction technology.
For great shots of friends and family, face detection technology locates faces and automatically adjusts the camera settings.
Capture the details in low light conditions and fast action situations with high ISO (up to 3200).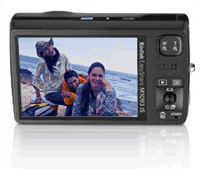 Pricing and Availability
The KODAK EASYSHARE M1093 IS Digital Camera will retail for US$199.95 MSRP from September 2008.
About the KODAK EASYSHARE System
Kodak continues to bring groundbreaking features to its award-winning KODAK EASYSHARE Digital Photography System, enhancing the digital photography experience for consumers worldwide. The EASYSHARE System consists of digital cameras, picture frames, snapshot printers, online services, software, inkjet printers, and accessories — making picture taking, sharing and archiving effortless. All KODAK EASYSHARE Products being introduced today include the latest Version 7 of KODAK EASYSHARE Software featuring an array of enhancements to help consumers find, create and share pictures like never before. Version 7 Software now includes direct access to KODAK Gallery making it simple to find albums stored online. The new KODAK EASYSHARE Software Version 7 can be downloaded for free. Further information on all KODAK EASYSHARE Products can be found at www.kodak.com.