Kobo released the Kobo Vox eReader, 7-inch color Android 2.3 touchscreen tablet, named from the Latin Vox Populi meaning the voice of the people. Its unique Facebook integration allows users to start conversations with other readers and discover new books and authors through their social network.
Kobo Vox allows users to easily navigate their library, scroll through books, turn pages with a tap or swipe, and personalize their reading experience with highlights, annotations, 42 adjustable font sizes and more. The Kobo Vox has onboard storage for up to 8,000 eBooks, with expandable storage to hold up to 40,000 books, and access to unlimited storage in the Kobo cloud.
With the Reading Life social platform users can now choose to connect with friends or create book clubs and discuss their favorite reads on Facebook, track their reading statistics, and unlock fun and exciting awards just for reading. The recent innovation of Kobo Pulse takes social reading to a new level — readers can literally see the pulse of a book page by page. Pulse provides a visual reflection of the amount of user commentary and sharing on each page of every book. The people's voice (vox populi) is woven through the reading experience in a way readers have never experienced before. Readers can leave reviews, start conversations, and share comments and thoughts in real-time with others who are reading the same book, all within the book itself. Kobo Pulse provides the ultimate source for book recommendations, as the suggestions come from friends and 'like' minded readers whose opinions and interests are similar and trusted.
Featuring a brilliant multimedia touchscreen, readers can experience text with high contrast and immerse themselves in books, magazines, games and videos in vivid color. When designing the device, Kobo had an eye on the need for great reading outdoors (and indoors) and selected the most advanced 7 inch AFFS+ display — the same technology used in airplane cockpits (there are no clouds at 30,000 feet). In addition to its excellent performance outdoors in bright sunlight, this display also features an extra-wide viewing angle, ideal for shared reading and viewing.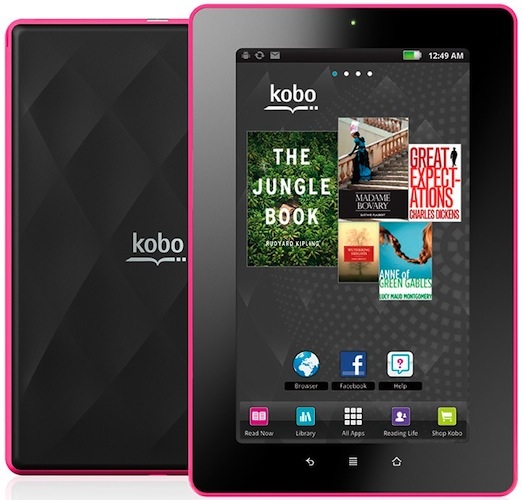 Kobo's global ebookstore — 2.5 million books and over 1 million free — just got better with new color and enhanced multimedia content. Discover a new world of reading with rich color content for all ages, including cookbooks, engaging travel guides, comic books, and graphic novels. Parents and children can read together with Read Along children's books, a great way to spend quality time and a fun way to help children learn to read. The Vox eReader includes three free color books, so people can start building their color library right away; there is a selection of dessert recipes for the chef-in-training in Sweet Dreams, Lonely Planet's Europe Essentials for the avid traveler and Franklin and the Thunderstorm for young readers.
Kobo Vox offers full access to Android 2.3, and includes an open app store with over 15,000 FREE apps for Android. With ultra-fast web browsing, Vox users will have the latest news, weather, and Hollywood gossip at their fingertips. Plus, Vox's full-featured email client supports POP, IMAP and Microsoft ActiveSync so users can get their personal email like Yahoo and Gmail and work email too!
Price and Availability
The Kobo Vox is now available in the U.S. and Canada for $199.99 in hot pink, lime green, ice blue or jet black.
Related: Amazon's Kindle Fire tablet / eReader is also priced at $199.