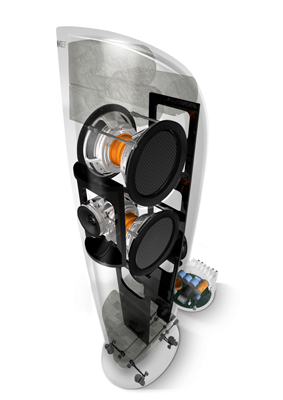 "Simplicity is the ultimate sophistication" – Leonardo Da Vinci
In loudspeaker engineering as in everything else, true innovation sometimes requires rethinking a problem from first principles. So when we set out to create the Concept Blade*, our acoustic research department had complete freedom to explore radical new options. No preconceptions or aesthetic restrictions, and no reliance on existing components.
After three years of exhaustive testing and analysis of traditional as well as experimental approaches to loudspeaker design, they perfected a combination of technologies that generates an extraordinarily pure sound.
Concept Blade is forged from these technologies. Its exceptional acoustic integrity derives from the fact that every element of the system has been conceived to perform as a single coherent unit with all parts working in flawless harmony. The highest quality components and advanced materials have been used in perfecting the design.
While the technologies incorporated into the design are often very complex, the focus has always been on simplicity. The drivers are specifically designed to behave with zero break-up or resonance over their frequency range, and the distinctive cabinet is carefully engineered not to interfere with the purity of their output.
* 'A unique one-off speaker created to show off KEF technology and not available for sale'