Pocket Camera Shoots HD Video & 8 Megapixel Stills
JVC announced the launch of its first pocket flash memory camera, the new PICSIO GC-FM1. PICSIO is designed for those who want a small, simple, camera that allows easy sharing and delivers high quality video and still images.
PICSIO shoots eight-megapixel stills and 1080p HD video for outstanding results even when viewed on an HDTV. Further enhancing the quality of PICSIO's video is image stabilization that minimizes camera shake, even when the 4X digital zoom is used. The camera is about the size of a small cell phone, and is available in three colors – Black Ice, Blue Steel and Purple Passion. It boasts a stylish design with a case that features a tone-on-tone geometric pattern and chrome accents for a jewel-like appearance.
PICSIO's high quality images result from the use of an eight-megapixel CMOS image sensor that captures JPEG stills with up to eight-megapixel native resolution – there's no image-degrading interpolation, so PICSIO images are sharp and vibrant, whether viewed on a screen or printed. In video mode, PICSIO records HD video that's easily enjoyed on an HDTV by using the camera's HDMI connection. Videos are recorded in the widely-used MPEG-4 AVC/H.264 format and stored as .MOV files for easy sharing without the need for time-consuming and potentially damaging conversion. Storage is on readily-available SD/SDHC memory cards.
To suit individual shooting situations, PICSIO provides four video and still recording modes: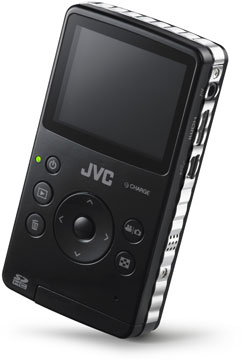 Video Recording
| | | |
| --- | --- | --- |
| Mode | Image size | Frame Rate |
| 1080p | 1440 x 1080p | 30 fps |
| 720p | 1280 x 720p | 60 fps |
| VGA | 640 x 480p | 60 fps |
| QVGA | 320 x 240p | 30 fps |
Still Recording
| | | |
| --- | --- | --- |
| Mode | Image size | Aspect Rate |
| 8 M | 3264 x 2448 | 4:3 |
| 5 M | 2592 x 1944 | 4:3 |
| 2 M | 1600 x 1200 | 4:3 |
| 0.3 M | 640 x 480 | 4:3 |
Ease-of-use was a top priority in designing PICSIO, so instead of lengthy menus to scroll through, functions are easily selected directly using logically placed dedicated buttons. Power (on/off), playback, delete, video/still mode switching, and thumbnail display mode all have their own individual buttons. A four-way controller positioned in the middle controls zoom (by pressing up/down), still image viewing (by pressing left/right), and record start/stop (the center button). The large, two-inch LCD also makes shooting easy.
Connectors include HDMI™ out (Mini), AV out and USB 2.0/1.1. The camera charges via USB connection, so it automatically charges whenever connected to a PC and not transferring files. USB cable, AV cable, hand strap and PC software – loaded into the camera's internal memory – are included with the camera.
PICSIO Feature Highlights
Stylish Pocket-Fitting Design in Choice of Colors
"Menu-less" Simple & Easy Operation
Direct Sending to iTunes/YouTube™ (.MOV file)
Image Stabilizer
8 Megapixel Still Image Recording
1080P/30fps HD Video Recording
4x Digital Zoom
Convenient USB Battery Charging
HDMI™ and AV Output Terminal
SD/SDHC Card Compatible (up to 32GB)
2.0″ Color LCD
The JVC Picsio GC-FM1 is available now for $199.95.
Image Sensor
8 Megapixel 1/3.2″ CMOS
Zoom
Digital 4x
Image Stabilization
Digital Image Stabilizer
Recording media
SD/SDHC Card (not provided)
Monitor
2.0″ Color LCD
Video Recording Mode
1080p: 1440 x 1080p / 30fps / 12Mbps, 16:9
720p: 1280 x 720p / 60fps / 12Mbps, 16:9
VGA: 640 x 480 / 60fps / 4Mbps, 4:3
QVGA: 320 x 240p / 30fps / 0.7Mbps, 4:3
Format
Video: MPEG-4 AVC / H.264: MOV, Audio: AAC
Still Recording Mode
8M: 3264 x 2448, 4:3
5M: 2592 x 1944, 4:3
2M: 1600 x 1200, 4:3
0.3M: 640 x 480, 4:3
Format
JPEG
Connectors
HDMI™ out (Mini), AV out, USB 2.0/1.1
Others
PC Software and Instruction Manual (pre-installed in internal memory)
Continuous Operation Time
Approx. 96 minutes
Provided Accessories
USB Cable, AV Cable, Hand Strap
Dimensions (W x H x D)
53.0mm x 97.0mm x 17.0mm (2-1/8″ x 3-7/8″ x 11/16″)
Weight
Approx. 95 g (0.21lbs)
Notes:
SD/SDHC card is not supplied. To record video, SDHC card with Class 4 or higher performance is required. Digital stills can be recorded on both SD and SDHC cards. SD memory cards (256MB to 2GB) and SDHC memory cards (4GB to 32GB) have been tested for the following brands: Panasonic, Toshiba, SanDisk, ATP. Note that using other media may result in recording failure or data loss. Recording time figures are estimations. There may be cases where actual recording time becomes shorter depending on the type of content being recorded.