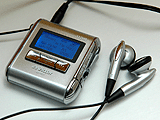 Flash memory players include FM tuner and voice recorder
NEW YORK, June 14, 2005 — Two new matchbook-size digital audio players have been announced by JVC, one with 1 gigabytes (GB) of storage and another with a capacity of 512 megabytes. The two flash memory players each feature a built-in FM stereo tuner, voice recorder and a large backlit four-line dot matrix display.
The new JVC XA-MP101 (1GB) and XA-MP51 (512MB) support both MP3 and WMA (DRM) files. They connect to a PC using the players' USB 2.0 port, and there is no software required — adding files is a simple drag-and-drop procedure.
Both players are truly pocket-size: each measures a mere two-inches square and weighs just 1.5 ounces with the single AAA battery installed. The XA-MP101 comes in black, while the XA-MP51 is available in blue or white.
In addition to the FM tuner and voice recorder, other features include FM stereo recording from the tuner, five preset equalization modes, playlist editing and bass boost. There is also a line-out jack for routing the sound through another music system, and a headphone jack. To ensure top-quality sound, both players use an 18-bit D/A (digital-to-analog) converter and the included headphones feature Neodymium drivers.
JVC's XA-MP101 and XA-MP51 will be available in July at nationally advertised values of $199.95 and $149.95.
About JVC Company of America
JVC Company of America, headquartered in Wayne, New Jersey, is a division of JVC Americas Corp., a wholly-owned subsidiary of Victor Company of Japan Ltd., and a holding company for JVC companies located in North and South America. JVC distributes a complete line of video and audio equipment, including high definition displays, camcorders, VCRs, D-VHS recorders, DVD players and recorders, satellite systems, home and portable audio equipment, mobile entertainment products and recording media. For further product information, visit JVC's Web site at http://www.jvc.com or call 800-526-5308.