For 2012, JVC has updated its DRVN Series with three new step-up car amplifiers designed for ease of use offering easier installation, upgrade and control with the brand's patented dynamic audio delivery circuitry. All terminals are mounted a single side of the chassis with covers so mounting holes are covered with a clean look. Parallel drive MOS-FET Power Supplies increase efficiency allowing the new amplifiers to carry up to an extra 20% of current from single MOS-FET designs.
Price and Availability (coming February 2012)
JVC KS-AX5101D (300 watt x 1 RMS) 1000W Peak Class-D Circuit Amplifier → $219.95
JVC KS-AX5102 (300 watt x 1 RMS) 600W Peak Class-AB Circuit Amplifier → $169.95
JVC KS-AX5104 (200 watt x 2 RMS) 1000W Peak Class AB Amplifier → $219.95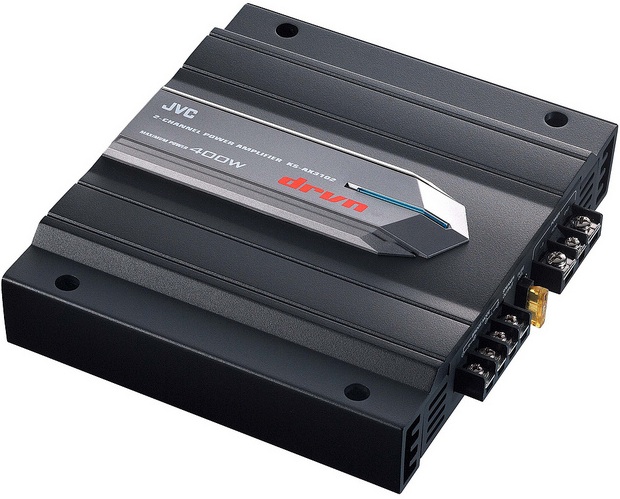 The 2011 JVC line-up of DRVN car amplifiers will remain available. They are are designed to have a small footprint, feature a MOS-FET power supply and output stage, enhanced low-frequency sound performance specifically tuned to CS-GD1200 woofers, increased dynamic power, and are all bridgeable.
Price and Availability (available now)
JVC KS-AX3102 (65 watt x 2 RMS) 400W Peak Amplifier → $139.95
JVC KS-AX3104 (60 watt x 4 RMS) 800W Peak Amplifier → $199.95
JVC KS-AX3101D (250 watt x 1 RMS) 800W Peak Class D Amplifier → $229.95