JVC introduced four new in-car AV Multimedia head units, loaded with new technologies and enhanced connectivity for the ultimate in-vehicle consumer experience. All new 2011 models feature the ability to create personal wallpaper images on-screen as backgrounds and control basic functions using touch and slide control operations. Users can control simple volume, track up/down, and folder up/down functions using simple swipe gestures on-screen.
JVC has also partnered with MotionX-GPS Drive for integration with new its Double-DIN Multimedia receiver models. MotionX-GPS Drive is an application that turns your iPhone into a personal navigation device; providing full navigation features and song playback control. Once connected, MotionX-GPS Drive displays its map data on the JVC Multimedia Receiver's widescreen monitor. Simultaneously, the iPhone displays a choice of Motion-X GPS's feature/menu screens as a secondary display while continuing to show map data on the JVC receiver. MotionX-GPS Drive also works with the iPod's music player by muting music during turn-by-turn voice commands, then restoring the song's volume immediately after.
All models are compatible with JVC's existing KS-U30 add on video playback adapter for iPod/iPhone which allows iPod Video content to be displayed on screen. The KS-U30 also displays content on-screen from some other iPhone applications such as YouTube and Netflix. This cable is currently available for $49.95.
The KW-AVX840 receiver features a 7-inch motorized widescreen touch panel display with proximity sensor and detachable face. The unit includes built-in Bluetooth wireless technology, USB 2.0 port for 2-way iPod/iPhone control, External Mode for audio playback from iPod/iPhone apps, and is HD and Satellite radio ready. The KW-AVX840 is WAV/MP3/WMA compatible, and features a 7-band iEQ, MOS-FET 50 watts x 4, three sets of 4V pre-outs, and is steering wheel remote control ready. Dual Zone and Dual play features are also included. The receiver will be available for shipping in March for $649.95.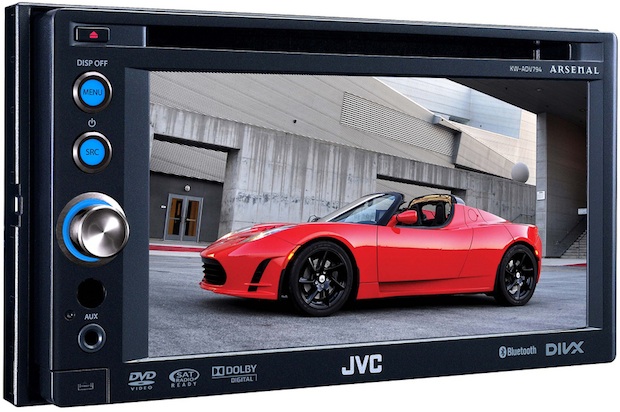 Also new to the 2010 line is the Arsenal KW-ADV794. The KW-ADV794 DVD/CD/USB receiver features a fully detachable 6.1″ VGA display, Built-in Bluetooth Wireless Technology, a rear USB 2.0 port with 2-way iPod control and External Mode for audio playback from iPod/iPhone apps. The KW-ADV794 is both HD and Satellite radio ready, and is WAV/MP3/WMA compatible. The unit also features MOS-FET 50 watts x 4, 3 sets of 5V pre-outs, Dolby Digital, wireless remote, and standard 2-year warranty. The receiver is available for shipping in February for $579.95.
JVC Mobile's Regular Line KW-AVX740 Double-DIN AV Multimedia Receiver includes these features but carries a one-year warranty and 3 sets of 4V Line Outputs for $549.95. The KW-AVX740 also ships in February.
JVC's Entry-level Double-DIN AV addition for 2011 is 6.1″ Detachable screen KW-AVX640 receiver. The KW-AVX640 is ready for Bluetooth using JVC's new KS-BTA100 optional adapter. This adapter adds Hands-free, Audio streaming, Voice Dialing, and Handsfree/Private mode to the receiver and connects using a simple rear AUX input and three line connection installation. The KW-AVX640 ships in February with a retail price of $499.99.

The single-din El Kameleon KD-AVX77 receiver, winner of the 2009 Best of Innovations award, also continues in the lineup as a single-DIN multimedia offering for 2011. JVC's KD-AVX77 features an 5.4″ ultra-wide monitor that can display ratios up to 3:32:1. The unit includes built-in Bluetooth with high-quality wired microphone, and is ready for HD and Satellite radio. The KD-AVX77 features USB 2.0 for 2-way iPod/iPhone control, Dolby Digital 5.1 surround decoder and a high-quality DVD pickup connects through a simple rear AUX input and simple three wire connection process and mechanism. The EL Kameleon KD-AVX77 Receiver is available now for $649.95.