JVC introduced its new BlackCrystal 3000 series LCD HDTVs available in four screen sizes — 32″ (JLC32BC3000), 37″ (JLC37BC3000), 42″ (JLC42BC3000) and 47″ (JLC47BC3000) for the North American market.
Each TV offers full 1080p HD resolution, with the two larger models doubling the refresh rate to 120Hz and the number of HDMI v1.3 inputs to four. Additional features include XinemaSound, Ambient Light Sensor and USB multimedia support.
Specifications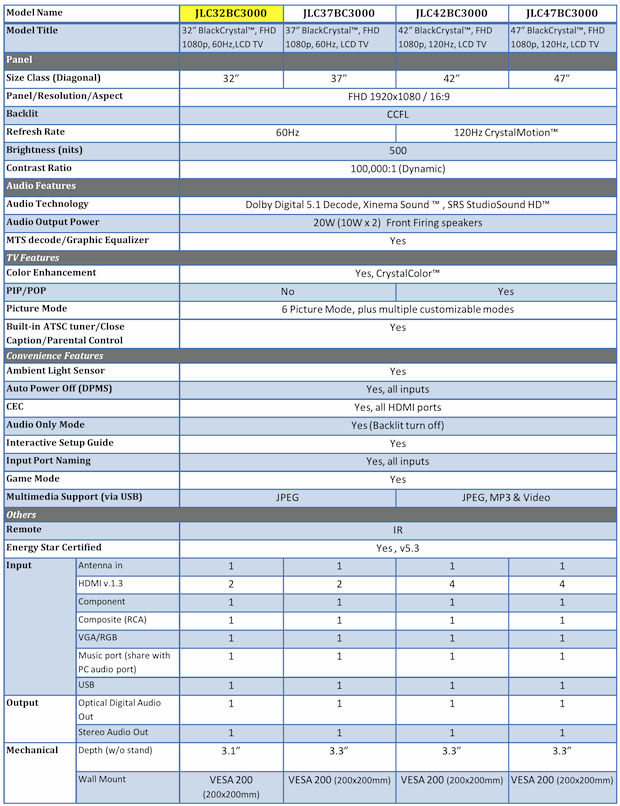 The new TVs are manufactured by AmTRAN Video Corporation (AVC), a subsidiary of AmTRAN Technology Co., Ltd. (AmTRAN) and are the first products to be made available under a licensing agreement announced in October 2010 between AmTRAN and Victor Company of Japan, Limited (JVC), an operating company of JVC KENWOOD Holdings, Inc. (JVC Kenwood.)
The agreement combines the brand power of JVC, a renowned global brand known for its technological prowess and product quality, and the reputation of AmTRAN, a global top-three manufacturer of HDTVs and a supplier of top brands. Through its AVC subsidiary, AmTRAN is responsible for production and sales, bringing a legacy of innovative product design, competitive manufacturing and engineering, quality assurance, and procurement capability.
Availability
The BlackCrystal series HDTVs will be available nationally through select national consumer electronics chains and through select retailers the third week of July 2011.
JLC32BC3000 → check price
JLC37BC3000 → check price
JLC42BC3000 → check price
JLC47BC3000 → check price