JL Audio is introducing StealthMod, a complete, JL Audio-engineered car audio upgrade package that builds on a Stealthbox installation with well thought-out amplification and/or speaker system modifications. StealthMod bridges the gap between a basic subwoofer addition and a full, custom system solution.
The goal is to provide maximum performance value with minimal modification to the vehicle and little visual evidence of its installation. By taking the guesswork out of the system design, equipment selection and installation, JL Audio can offer customers a high-quality, reliable audio upgrade at a very reasonable price.
Every aspect of the installation has been thoroughly researched and tested: from the interface with the factory head unit, to the power wiring and the speaker installation. In addition to detailed instructions, the installer will find all the necessary brackets, wiring products, fasteners and adaptors to complete the installation. This significantly cuts down installation time, compared to a custom system approach.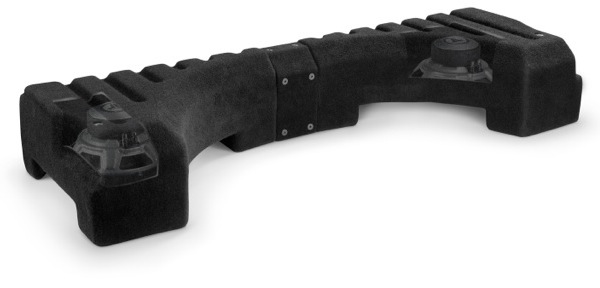 The end result is an audio upgrade that completely blows away the factory audio system, not only with improved sub-bass, but with better performance across-the-board.
StealthMod includes:
Stealthbox subwoofer system
Component speaker upgrades
System amplifier with remote level control
Wiring (power, speaker and signal)
Brackets, adaptors and hardware
Detailed installation and setup instructions
Price and Availability
Kia Soul → $1,449.95 (available now)
Chevrolet Camaro Convertible → $2,399.95 (available now)
BMW X5 (with premium audio) → $1,899.95 (available Q1 2012)
More models will be released during the course of 2012.