JL Audio added the tiny CP106LG-W3v3 enclosed car subwoofer system to their MicroSub series. The 6.5-inch subwoofer driver is enclosed in a thin-wall, CNC-cut, MDF box with extensive bracing that delivers excellent bass in tight space, cost-conscious installations.
The new CP106LG-W3v3 joins the 8-inch model CP108LG-W3v3 and the dual 8-inch CP208LG-W3v3. The latter is becoming a very popular choice for quality bass performance in sedans and hatchbacks.
Manville Smith, JL Audio's V.P. of Marketing said, "These MicroSubs are incredibly versatile, high-performance solutions for tight-space installations. The secret to their performance lies in the carefully engineered ported alignment, tuned by JL Audio's CEO and Founder Lucio Proni to extract maximum performance from the 8W3v3 drivers."
Extensive interior bracing permits the use of thinner wall material that maximizes the enclosure's internal volume relative to its exterior volume. The port wraps around two walls of the enclosure to produce the necessary low tuning frequency that ensures excellent extension and response smoothness. The flared port entry and exit further enhance sound quality by minimizing air-flow noises through the port.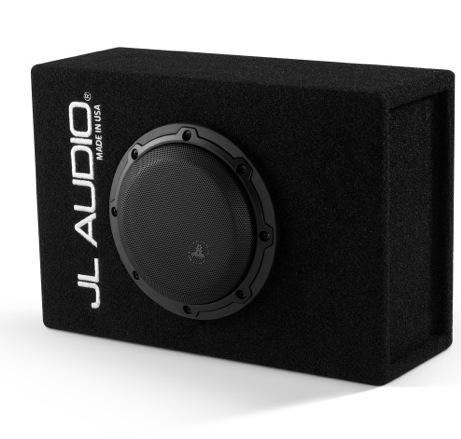 This subwoofer system is shipped wired, loaded and ready to connect via a five-way binding post terminal.
CP106LG-W3v3
CP108LG-W3v3
CP208LG-W3v3
Subwoofer Driver:
6W3v3-4
(6.5-inch)
8W3v3-4
(8-inch)
8W3v3-4
(Dual 8-inch)
Recommended Power Range:
50 – 150 W
75 – 250 W
150 – 500 W
Impedance:
4 ohm
4 ohm
2 ohm
Dimensions (H x W x D):
9.625 x 14.125 x 5.125 in
(245 x 359 x 130 mm)
11 x 18.63 x 5.13 in
(279 x 473 x 130 mm)
11 x 35.5 x 5.13 in
(279 x 902 x 130 mm)
Availability:
First Quarter 2012
Now Shipping
Now Shipping
MSRP:
$259.95
$299.95
$599.95
See more about:
Car Subwoofers