iStoragePro announced the release of two portable units of 8 bay Safari 2.5 inch stylish finished with an aluminum enclosure JBOD storage system specifically designed for professional users in the audio/video industry. iT8PMIS / iT8PESA with built in low noise cooling fans, supports up to 4TB of disk capacity, MiniSAS / eSATA interface provides quick and simple connectivity. The 8-bay Safari is a compact, portable, convenient, fast storage solution can easily handle high demand editing and high capacities for audio production, video post production, graphic design and digital photography.
iStoragePro iT8PMIS MiniSAS / iT8PESA eSATA 8 bay portable JBOD system is equipped with high performance MiniSAS / SATA II port Multiplier chipset technology, providing ultra high speed which is suitable to work with uncompressed HD video. Easy set up with two cables to the host RAID Controller card. Both systems can easily handle advanced formats such as 2K, 4K, full resolution 1080i HD, 720P, HDV, SD, and VFX. MiniSAS / eSATA unit provides speed exceeds 600MB per Sec / 400MB per Sec.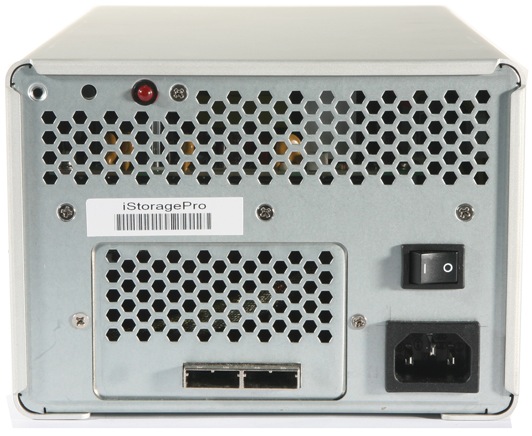 The iStoragePro Safari 2.5 inch eight bay JBOD is capable of providing ultra high-speed data transfer rate, maintaining a stable data flow to deliver users full performance. Featuring the studio-grade low noise cooling system makes this unit a perfect storage system with any studio control room. In addition, the high speed PCI Express RAID Card ensures RAID protection for your valuable data. It can be easily configured as a RAID Level 0, 1, 5, 6, or 10, to support your video application depending on the RAID Card, making this unit a perfect portable storage solution that provides the best protection and ensures the data integrity.
About iStoragePro
iStoragePro, a division of Ci Design, is a professional storage solutions provider that meets both high-end performance and audio/video requirements. We manufacture and custom design storage systems for the OEM, VAR, and reseller markets. The new iStoragePro series includes all new SATA, SAS, FireWire, SSD, and Fibre chipsets backplane technology. It is now available in a variety of models and interfaces such as eSATA, MiniSAS, SCSI, iSCSI, USB, FireWire, SSD, Fibre, and SAS Expander connections.
Reviews Around the Web:

istoragepro it8pmis